Zucchini Noodles with Clam Sauce (Recipe)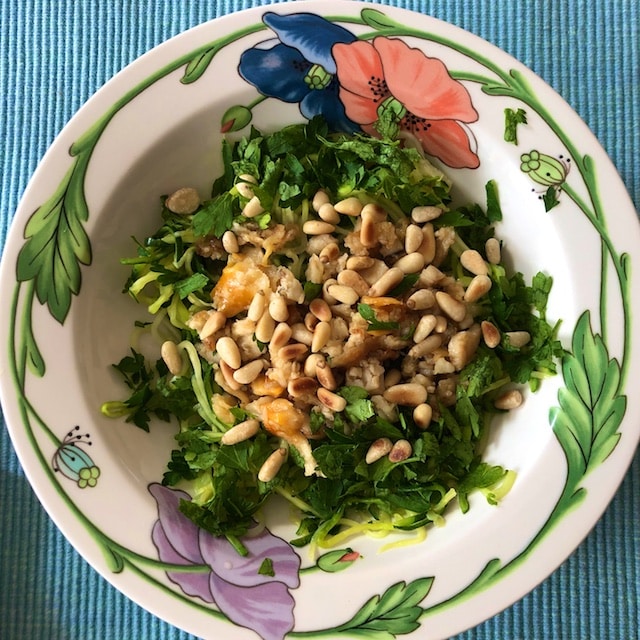 This is so easy and delicious. Don't be put off if you have never cooked clams before. This comes together quickly and effortlessly and packs a great protein punch while still feeling light.
This serves two. Double the recipe as necessary.
Recipe for Zucchini Noodles with Clam Sauce
2 large or 4 small zucchini (or buy them already spiralized)
1 Tablespoon of sea salt
3 Tablespoons good olive oil
2 large or four small cloves of garlic, peeled and roughly chopped
2 cans of clams (whole bellied or chopped)
2 teaspoons champagne vinegar (or use lemon juice)
1/4 cup fresh parsley, chopped
1/4 cup pine nuts
Spirialize the zucchini. Place in a colander and toss them with a tablespoon of salt until well coated. Place in the sink to drain.
Warm up the olive oil and add the garlic. Add clams, about half their juice, and the champagne vinegar. Simmer for 10-15 minutes.
Toast the pine nuts in a dry pan over medium heat until golden brown, shaking intermittently. Transfer them to a plate to cool.
Chop the parsley.
Reheat the skillet you toasted the pine nuts in. Rinse the zucchini noodles and wring them dry in a clean dish towel. Add to the heated pan and stir for 2 or 3 minutes.
Serve with the zucchini noodles on the bottom, topped with the clam sauce, then the chopped parsley and then the pine nuts. Serve immediately.
Enjoy!