Our Youngest Turns 24 (New Poem by Polly Castor)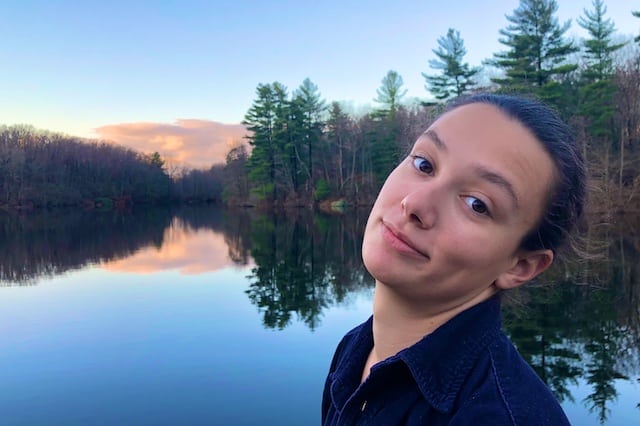 Our Youngest Turns 24
We love you so much.
Your virtues are manifold.
Plus, you are adulting
so very well.
We are proud of you!
You show up for yourself
even making your own broth
and canning it, your
intuitive adventures include
the perfect macrons (not easy!)
as well as other delicious
fly-by-the-seat-of-your-pants
cooking, like -no biggie–
inverse puff pastry from scratch
on Christmas morning.
You want to grow flax
to harvest, card, spin,
and weave into your own linen.
You are fixing up your 1918
treadle sewing machine,
having just installed a new belt
and shined up its body and feet.
You made your own
vertical warp weighted loom
last summer out of
spare maple saplings
from our yard.
You sewed up by hand
your own watch band
out of a scrap of
navy leather…
You are not only
an artificer,
you taught us the word.
You are a maker
that likes figuring it out,
but you have great taste too,
and a preference for
do-it-yourself
handmade quality.
Your hair is getting long
and you are starting to
pin it up in a crown,
and you like to wrap yourself
in blanket skirts,
with only your top half
actually dressed for zoom.
You are fascinated
by historical garb,
corsets, retro shoes,
and are making yourself
a modern version of an
antique walking skirt–
perfect to wear
out striding along
in your muddy cowboy boots.
Your style is
eclectic classic,
a bit scruffy and recycled,
with a homesteading twist,
and there are dreams
of owning land
and building
your own tiny house
in your future.
Meanwhile, you want
a grand piano too,
so you'll have to puzzle
that dichotomy out,
without one desire
precluding another.
Your piano compositions
I absolutely love,
and I'm so glad
you bought yourself
a keyboard
and have started recording
your lyrical improvisations.
You hike with me
at Huntington
when you are at our house
(like when you worked from here
for seven weeks last summer),
and we muse back upon
our great camping trips,
(so glad we took them
when we did!),
and express hope
for more someday soon,
like getting to your last three
of the lower 48 next fall.
You have an excellent
photographic eye,
taking the best
pictures of me
and are starting
to produce video too.
You are teaching
college Physics 1
online from your bedroom
with a rudimentary
white board set up
and correct papers
(you care more about
their problem solving process
than the right answers)
while hanging out with me
over the phone,
both of us doing our
own thing, separately.
I'm so glad
you call me so much.
I love hearing from you,
even if it is just about
how much snow you have
(two feet) and that the sun
has just come over the hill,
while you sit in your nook,
and you've just made tea, and
how long it took (3.5 hours)
for two of you to shovel out
your friend's car so you
could go to the grocery.
Oh, and you are just about
to make my maple mustard
cabbage recipe.
I'm glad you like my food
and adapt it
to your preferences.
You passed your huge
qualification examinations
recently with such aplomb
honored and surrounded by
kudos, applause, and hearty
–CONGRATULATIONS!–
so you now move on into
your physics PhD program,
and you did this
with such grace, poise,
and steely calm nerves,
turning in 25 handwritten pages
from a grueling eight hour exam,
followed by a challenging oral,
where you did so well
they even complimented
you on it during it.
You organized
your whole cohort
to study together,
helping everyone along,
but during your preparation
you spent plenty of time
reading novels too
one after another
after another,
which kept you calm
and unflustered,
with things in perspective,
not descending into
a tizzy whizzy, or
getting in your own way.
You have learned how
to schedule your time
to work hard,
while also insuring
necessary life balance.
You demonstrate
the law of the harvest,
by doing your daily portion
of nose-to-the-grindstone work,
so when the tests come,
cramming is not necessary,
only a gentle review.
You look out for others
and often are a self-appointed
go-between when friends
are fussing with each other.
They all seem to talk to you
and you sort them out.
You are paying off
your student loans
while in grad school
which is difficult to do
but you are proving it
to be possible.
Hence you keep
your apartment so cold
we've sent you
birthday cookies
and a space heater
to warm up your insides
and more importantly,
your socked feet.
You warm our hearts everyday.
You are cherished
and uniquely amazing,
while there is nothing at all
pretentious about you.
We are so grateful for you
and that you embrace
your authenticity
so completely.
Here's to your next trip
around the sun; may it
be a wonderful one.
I'm so grateful
to be traveling with you
even if so often
by states away.
I earnestly
thank God for you
multiple times
every single day,
but especially today.
Happy Birthday!
by Polly Castor
2/13/2021