Recipe: Pumpkin Cornmeal Muffins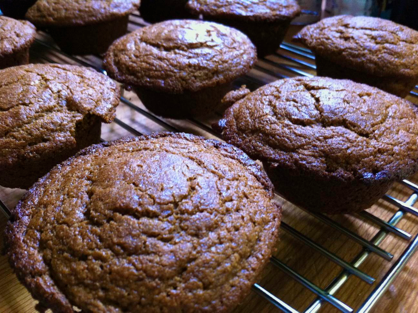 These are wholesome and delicious. You'll want to make a second batch soon to use up the other half of the can of pumpkin, but you'll probably have someone urging you to do that anyway. They are simple to make. Be sure to use organic cornmeal to avoid GMO's…
Pumpkin Cornmeal Muffins
1 cup sprouted spelt flour
1 cup organic cornmeal
2 teaspoons baking powder
1 teaspoon cinnamon
1/2 teaspoon baking soda
1/2 teaspoon sea salt
1/4 cup butter, melted
1 large egg
3/4 cup maple syrup
2 tablespoons molasses
3/4 cup sour cream
1/2 can pumpkin puree
Preheat oven to 375˚F.
Grease 12 cups of a standard muffin tin.
In a large bowl, combine the flour, cornmeal, baking powder, cinnamon, baking soda and salt.
In a medium bowl, beat together the butter, egg, syrup, molasses, sour cream and pumpkin.
Mix wet ingredients into the dry ingredients until combined. It'll be a bit lumpy.
Spoon into the prepared pan, filling almost to the top.
Bake until golden brown and a toothpick comes out clean, about 20 minutes.
Cool on a wire rack 10 minutes before serving.
Enjoy!