Lime Crusted Fish with Olive Sauce (Recipe)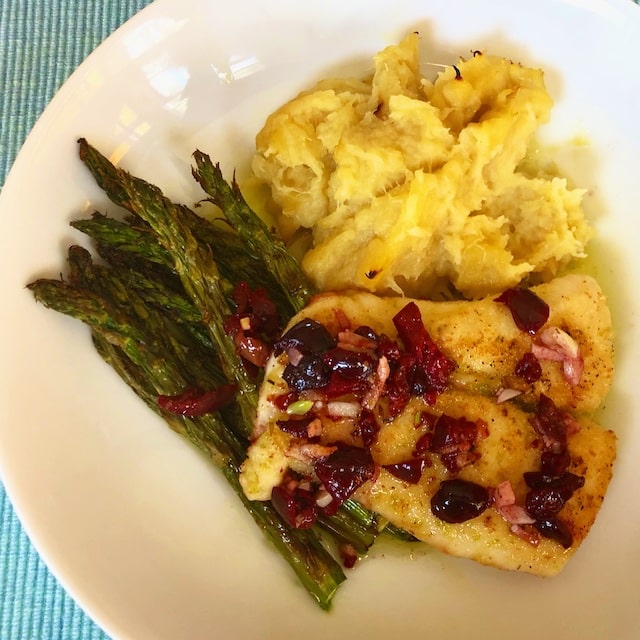 This delicious Whole30 recipe is sumptuous to eat. Plus, it is easy and quick to make!
I served it with air-fried, garlicky asparagus and white acorn squash mash.
If you are not trying to be grain-free, you can try it with a different kind of flour.
You can use any firm white fish. Here I used halibut, but cod is good too.
Lime Crusted Fish with Olive Sauce Recipe
Vinaigrette:
1 large clove garlic, minced
juice of 2 small limes (4 tbsp)
2 tbsp pitted black olives, chopped
1/4 cup olive oil
pinch sea salt
Fish:
2 tbsp tapioca or cassava flour
1 tsp garlic powder
zest of 2 small limes
small pinch sea salt
2 skinless filets of firm white fish
1 tbsp avocado oil
Zest the limes first and then juice them.
Stir together the vinaigrette ingredients in a medium bowl.
Mix together the flour, garlic powder, lime zest and salt together on a large plate.
Press the fish filets into the flour/lime mixture, coating well on both sides.
Heat the avocado oil in a large frying pan.
Add the fish, flesh side down, and fry 3 minutes or until golden brown. Then turn them over and pour vinaigrette around.
Cook for 2 minutes, until the fish is just cooked.
Serve immediately.
Enjoy!