My Husband and the New Pond Farm Harvest Dinner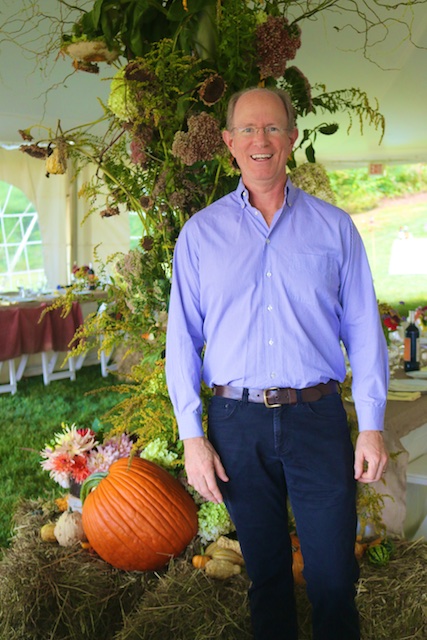 Last Saturday evening we went to a lovely fundraising dinner for New Pond Farm. We have loved New Pond Farm for over twenty years, so much so it even has it's own tag on this blog (see link at the bottom of this post) as well as in my gallery. I believe in their mission of environmental education, and applaud their motive of endeavoring to connect people with the land. This fundraising dinner supported their summer camp, where they bring needy inter-city kids to the farm in the summer. If you would like to donate to this good cause, you can do so here. 
But the especially fun thing about this gorgeous evening for us was that my husband (above) actually grew the vegetables that the 115 people attending this exceptional $150 per plate dinner ate. Growing all that was a lot of hard work and it was fun to be able to see it come to such a yummy culmination.
The director of New Pond Farm, who has been a long time reader of this blog, is shown first below. In the next picture is my husband together with New Pond Farm's farmer, who handles the farm animals; the two of them together were responsible for growing and producing the food for this Harvest Dinner. In the next picture is the chef for the evening, who is the chef from Bailey's Backyard in Ridgefield. You can also see his menu and bio below. Before the menu photo, you can see a few photos of  some of the produce my husband grew and delivered to the chef.
So amble through these photos and see what a lovely event this was. I'm so grateful such a wonderful place as New Pond Farm exists, and I'm proud of all my husband's hard work that helped make this supportive event a success!