Book Review: A Homemade Life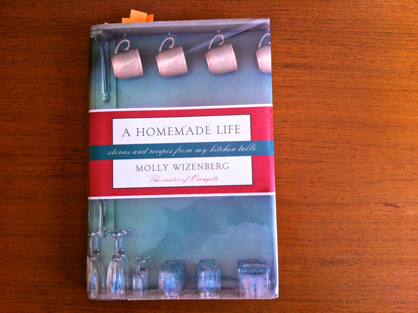 I really enjoyed this book and give it five stars.  Officially, it is a book of essays preceding wonderful recipes, but it reads more like a sweet novel or an engrossing memoir.  I found it in the stacks of a library that is not my own, and I'm so glad I did.  It was published in 2009, written by the blogger of Orangette, which is a site I didn't know of until I read this book.  I just signed up to subscribe to her blog, and I realize I'm suddenly behind on three intervening years of someone I feel I've come to know a bit and definitely appreciate.  Apparently she's writing a new book for people like me who need to catch up, but you'll want to read this one first.
Molly is from Oklahoma, and lands in the Seattle area, via Paris.  She has multiple academic degrees, but what she really likes is food, so she quits graduate school to start her blog, which in turn spawns this book. She shares her journey; she introduces us to her parents, her boyfriends, and most importantly, her food.  We are at her side when her dad dies, feeling her pangs of love-mingled sadness, and again we are with her when she meets her future husband like a needle plucked from a haystack, giddy and bewildered, and we're there, too, when she marries him. The dad made potato salad, the new husband has a collection of vinegar, and they served an incredible flourless chocolate cake at their wedding that she made herself… All her stories are laced with humanity, and sincerity, as well as delicious food.
She's a doctor's daughter like I am, and blogs about food, as I do as well.  She writes about Julia Child's Tarte Tatin which I've pressed on my own blog readers. I'm also a fan of slow roasted tomatoes (here is my version) and my roasted Ratatouille is similar to hers, as my Puffy Oven Pancake is close to what she calls a Dutch Baby. Molly is a kindred spirit, with a first name 4/5ths my own, and a similar need for deep authenticity.
Although I'm doubtful about pickles in general, and radishes for breakfast in specific, you can see my marked tabs in this book for things I want to try to make, mostly because she makes them sound so good: Cranberry Chutney with Crystalized Ginger and Dried Cherries, Cider-Glazed Salmon, Dried Fruit Pie, Bouchons Au Thon, and Caramelized Cauliflower with Salsa Verde.  And I'll have to try some shaved bittersweet chocolate on arugula!
With more people like Molly and I "winning hearts and minds" (as she puts it) the world will be okay.  To use her idiom… may goodwill, honesty, and delectable edibles "spread like wildflowers!"