Laura's Water Lily and an Update From Our Pastel Class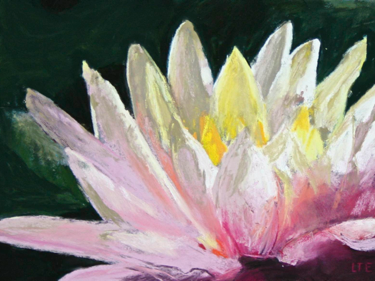 Above is the first of two paintings my 12 year old daughter made in my adult pastel class. I love it and we will frame it for our upstairs hall. It looks particularly good from far away, and this way we'll see it down the hall every time we come out of the upstairs bathroom. She is now working on a lobster, which she has tackled with aplomb, even though the subject matter struck me as quite difficult. One wonders if this is where she is at age 12, where she is to go from here! I am working on a much larger piece of a coastline off of Maine. These I'll show you when they are completed.
One of the best blessings of the class is we got to try other brands of pastels so we could choose which ones to buy. Buying pastels is quite a financial investment. In this class we were using my daughter's pastels which she got from Christmas and birthday gift certificates. Now, after trying a range of options, I know what I want to buy, and it will be my turn to share.
The class is over, with the exception of a plein air day in May, so I wanted to encapsulate some of what we have learned. (See here for the previous blog entry for the beginning of our class.) Meanwhile, here are some of the pastel painting tips I've learned since the last blog post:
If you have a warm light source you'll have a cool shadow. If you have a cool light source, you'll have a warm shadow.

Put detail only in lights, never in shadows; make the shadows very solid.

Dark doesn't necessarily mean muddy. Spend your time building your dark areas and then your last moment lights will really sing.

It creates harmony if you can put color from one part of the painting into another part.

If you start to get too many edges in your painting, it will start to look less real.

Put warm colors on top of cool ones.

Subtlety will sell the whole scene.

You can create grays by putting complimentary colors on top of each other, with the dominant tone on top.

There are five components to work on in your art: shapes, values, edges, composition, and color.

Be more concerned with value than color. If color is wrong you won't notice, but if value is wrong you will!

Squint and look at large shapes. The big shapes and values sell the likeness more than the details.

Make your marks "across the form" (example: around the contour of the arm rather than down it.)

If you are stuck, turn both your painting and your reference upside down. Or look at the work in a mirror to tell what is wrong with it.

If the sky is one color and the clouds are another color, it will look like two stratospheres. You need to get colors from each part of the sky into each other.

La Carte paper is wonderful to the touch but cannot get wet. (If you sneeze on it or something, let it get completely dry before you try to fix it!) Wallis paper can get wet but will take the skin off your fingers if you rub it. But you can do a watercolor underpainting on it, and the abrasive surface will teach you not to blend too early in the process! Soft pastels are water based also, so they can be wet for other techniques.

What is your motive in painting the work? Simply working until there is nothing left to do is not how you know when it is complete. What do you want it to say? What do you want it to be? What drew you to this image to begin with? Get your impression of whatever that is and when you've rendered that, stop.

Stronger contrast pictures are easier to paint.