Our Son Starts His Sophomore Year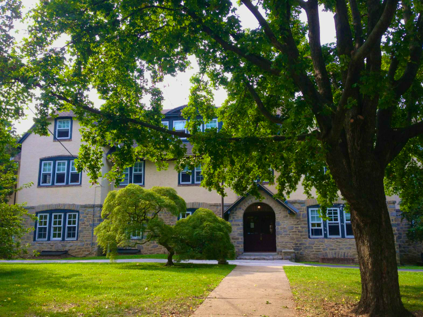 I drove our son to Swarthmore today, where he will start his sophomore year in college. He was excited to be back and I'm very grateful he loves this place so much.
He is pursuing a double major in engineering and political science, and this fall will be taking mostly engineering requirements, with a hard upper level political science course thrown in. He did very well last year, but this course load will be his most challenging yet.
In the photos here, you can see his dorm before we rearranged the room and moved his stuff in. Very different than moving our older daughter in when she wanted me to stay and help her unpack, our son just required a run to Target before I was on my way. 
I'm getting better at administering this "open-nesting" stage our family is in, and improving my navigation of the sometimes tenuous waters of serving up motherhood in exactly the way each kid needs it at the time. This is especially true with my son, and I enjoyed a light heart and spirit today on the drive to school, complete with no pangs at parting.
We are down now to one kid at home again, and the huge pile of my son's dorm stuff which spent the summer in my downstairs hall is mercifully gone. I plan to spend Labor Day weekend cleaning my house and getting back to our new "normal" here…