A Dream House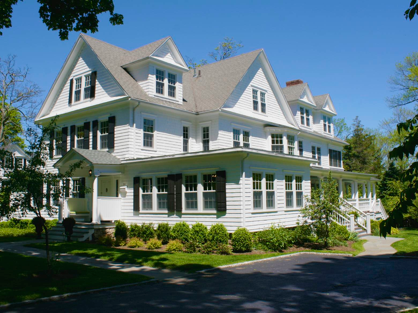 Back when I was leaving engineering in New York City, I considered working with an investor to buy houses for me to renovate for resale.  We actually looked at real estate and the house here was one that I considered doing.   It is on Main Street in Ridgefield, right next to my church. At the time it had been used as offices for the Visiting Nurses' Association, and we proposed buying it with investor money for $500,000 and restoring it back to a single family home, suggesting to resell it for $900,000. My kids were young, and I dreamed of them growing up in such a place, with room for learning and projects, and good sized rooms of their own. Instead, I went into the full time public practice of Christian Science.
Well, this house is on the market again for $2,975,000! It has nine bedrooms each with a private bath, an office with a side street entrance, fabulous porches, working fireplaces… I went to the open house to check it out, and here are my photos.
Let's see… my husband and I would take the master's suite in the back with the sleeping porch. Each of our kids would have their own room, plus there would be a guest room for you to visit.  Not only would we have public office space for our home businesses, but there would be room for each of us to have private offices, and me to have some fabulous art studio space!