Book Review: This I Believe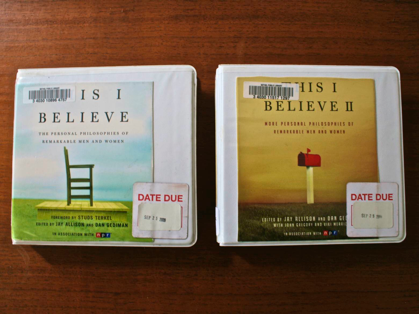 I really enjoyed these two sets of CD's of a favorite NPR radio program, and give them 5 stars. These two CD sets showcase the 3 minute credos of famous people and everyday people alike. There are housewives, truckers, doctors, astronauts, gang members, mothers, teachers, young people, old people, believing in everything imaginable. There is a young person that believes things will always get better, a person that believes in barbecue, another that believes in tango, others that believe in patriotic freedom and the power of doing good deeds. Some believe in being present, some believe in love, while others believe in the power of surrender. There are those whose beliefs are shaped by overwhelming hardship, some who are convinced of their beliefs and others that are reluctant and unsure about theirs. A few beliefs are articulated religiously, but the large majority are not. You can also hear what Helen Keller believes, or Jackie Robinson, or Eleanor Roosevelt, or Roger Hammerstein, or Leonard Bernstein, or Colin Powell, or Martha Graham, in their own words and voices. Even Einstein and John McCain are represented.
It is wonderful to listen to the writer read their own words, and in this way it is most profound on audio, but so many were so wonderful with such good turns of phrase that if you read the print version, you'd have the luxury of highlighting bits instead. I listened to this in the car, and the pieces are short enough that it makes very good listening around town; when another kind of audiobook would become disjointed from too much interruption, this delivers a quick pick-me-up with closure before your next destination. I was moved to sopping cheeks by several and disturbed by a couple. This is really worthwhile listening, and all the time it makes you wonder how you would sum up your own beliefs so concisely.
Because this cross section of voices is so sweeping, the result is a universal message that is great for everybody. Because it would be nice to enjoy this audio series more than once, this would be a good gift to give someone who might want to ponder what they believe. Maybe you know someone you want to give this to this Christmas? Personally, now that I've heard it, I want the book. (But I really think hearing it is the way to start…) And if you only want to buy one, I think I liked the first set slightly more than the second.
The "This I Believe" collection is still ongoing and they are requesting your submission to their website. (Click Here) On the website, you can also read the text of many of the essays. Check out the website, listen to the audio or read the book, and write and submit your own essay! You'll be glad you did.