Book Review: Olive Kitteridge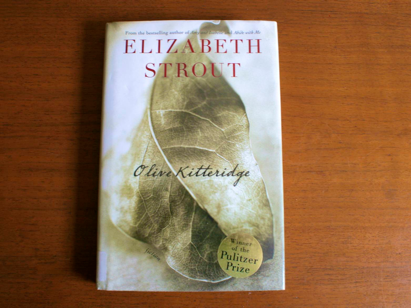 I liked this Pulitzer Prize winning book more than most that get that award, and I give it four stars. Olive was depicted as a fleshed out character who felt very real to me. This book is made up of short stories with Olive either central, secondary or peripheral, but all are linked together so that not only can each stand alone, they all flow and merge into a novel. I thought this device rather effective, and also refreshing. It especially worked well for me reading it during a busy period of time, where, catching one short story at a sitting, brought a satisfying sense of open ended closure along the way.
This novel left me feeling grateful for all sorts of little overlooked things, and reminded me of how many perspectives there are on life in any given moment, at different ages or stages within oneself, or in others around us, both dear to us and still unknown.
This author's talent for description and her perfect capture of tiny vignettes, makes me want to read more of her work. She understands the struggles of human nature, and does not whitewash or varnish over them; they are portrayed simply as facts that she deals with compassionately, in a way that I found fortifying. Read this when you are in the mood for a meandering, perceptive study of a mature woman's life.