Book Review: The Thousand Autumns of Jacob de Zoet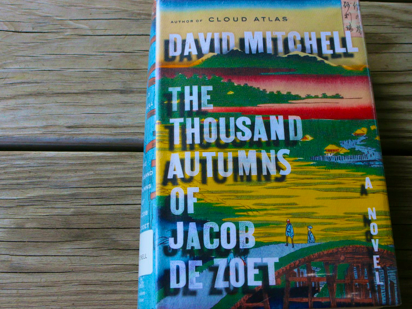 This is a remarkable historical novel set at the cusp of the nineteenth century on the Dutch trading post of Dejima outside Nagasaki, Japan. It follows a young clerk who came to make his fortune in order to win the hand of a young woman back home. Japan has been closed to outsiders for hundreds of years and it is through this upstanding and moral European that we get a glimpse inside.
There is good and evil in both cultures and these contrasts are highlighted in stunningly brilliant prose. In this grand sweep of storytelling sometimes there is so much detail relayed that it almost gets bogged down, and there are some gruesome scenes (a problem birth that the novel opens with, two beheadings, preparing to commit hari-kari, etc) that are described with excruciating precision. But the good is more pronounced. Jacob de Zoet was a pastor's son; he believes in God, successfully relies on the Psalms, and is a refreshingly honorable protagonist. The good men the world over are ultimately on the same side regardless of their differences.
There is adventure in this story, a bit of mystery, and barely a hint of romance. This long yarn made me interested in the time period and place, and feel I understand the land of the shoguns better. (Now I want to read something about the opening of Japan!) The title refers to the fact that Japan was called the Land of a Thousand Autumns, so it is merely declaring that the book is about Jacob's time in Japan.
I give this intense, well-written read four stars. There are a lot of characters here with difficult to pronounce names, so this might be one to listen to on audio for an improved experience. You won't soon forget this story, and now I want to read more by this exceptional author.