Movie Review: Words and Pictures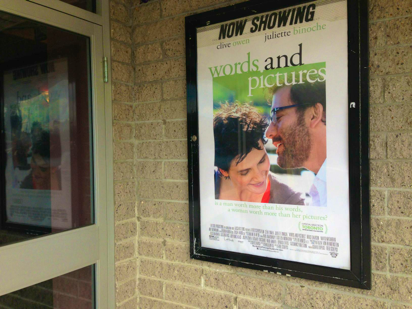 I enjoyed this movie and give it four stars. It is about an English teacher and an Art teacher in a private prep High School that compete between classrooms over what is more powerful and important: words or pictures.
I didn't need the added issues and challenges of arthritis and alcoholism overlaid onto this story: it is there and it almost demoted for me this film to three stars. There are also some things that ring untrue; for example I don't think it would matter for his being rehired in a high school whether he had written a poem or not. Also the two teachers end up in bed together so the movie apparently is not intended for a high school audience, which is too bad.
But the English teacher's fascination with words was interesting with well chosen snippets of quote and repartee, and the art teacher stole the show both in her class and especially in her private studio. I loved watching her paint with a brush larger than your broom hung from a pulley on the ceiling! She demanded that her students dig deeper for something more genuine in themselves that was already there.
In the end, both words and pictures are necessary. However, students and teachers alike grew from considering both of these perspectives. Words and pictures are genres my blog readers know I love for their ability to express, explore, and revel in our most profound truth.