Today's Newspaper Article: From Atheism to Believing in Divine Love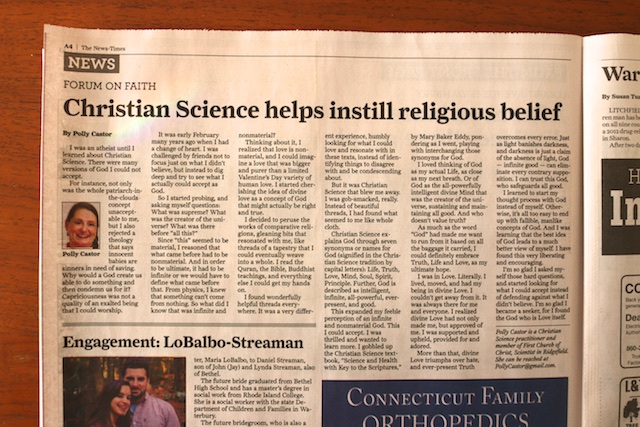 This newspaper article of mine (about moving from atheism to believing in divine Love) is in three Connecticut newspapers today: the Danbury News Times, the Connecticut Post, and the Stamford Advocate. You can read it  here, here,  here, or simply read it below.
Please note that I don't get to pick the titles in the newspaper, and I was not thrilled with their choice, so below I'm sticking to my own. Also, I thought it was ironic that the advertiser just below my article in the print edition was the place I went a few weeks ago to get my elbow x-rayed when I had a wonderful healing through prayer. What is the likelihood of that?
Anyway, feel free to share this article, for I know there are a lot of atheists out there that haven't met a God they could believe in yet… 
Moving from Atheism to Believing in Divine Love
I was an atheist until I learned about Christian Science. There were many versions of God I could not accept.
For instance, not only was the whole patriarch-in-the-clouds concept unacceptable to me, but I also rejected a theology that says innocent babies are sinners in need of saving. Why would a God create us able to do something and then condemn us for it? Capriciousness was not a quality of an exalted being that I could worship.
It was early February many years ago when I had a change of heart. I was challenged by friends not to focus just on what I didn't believe, but instead to dig deep and try to see what I actually could accept as God.
So I started probing, and asking myself questions: What was supreme? What was the creator of the universe? What was there before "all this"?
Since "this" seemed to be material, I reasoned that what came before had to be nonmaterial. And in order to be ultimate, it had to be infinite or we would have to define what came before that. From physics, I knew that something can't come from nothing. So what did I know that was infinite and nonmaterial?
Thinking about it, I realized that love is nonmaterial, and that I could imagine a love that was bigger and purer than a limited Valentine's Day variety of human love. I started cherishing the idea of divine Love as a concept of God that might actually be right and true.
I decided to peruse the works of comparative religions, gleaning bits that resonated with me, like threads of a tapestry that I could eventually weave into a whole. I read the Quran, the Bible, Buddhist teachings, and everything else I could get my hands on.
I found wonderfully helpful threads everywhere. It was a very different experience, humbly looking for what I could love and resonate with in these texts, instead of identifying things to disagree with and be condescending about.
But it was Christian Science that blew me away. I was gob-smacked, really. Instead of beautiful threads, I had found what seemed to me like whole cloth.
Christian Science explains God through seven synonyms or names for God (signified in the Christian Science tradition by capital letters): Life, Truth, Love, Mind, Soul, Spirit, Principle. Further, God is described as intelligent, infinite, all-powerful, ever-present, and good.
This expanded my feeble perception of an infinite and nonmaterial God. This I could accept. I was thrilled and wanted to learn more. I gobbled up the Christian Science textbook, Science and Health with Key to the Scriptures, by Mary Baker Eddy, pondering as I went, playing with interchanging those synonyms for God.
I loved thinking of God as my actual Life, as close as my next breath. Or of God as the all-powerfully intelligent divine Mind that was the creator of the universe, sustaining and maintaining all good. And who doesn't value Truth?
As much as the word "God" had made me want to run from it based on all the baggage it carried, I could definitely embrace Truth, Life, and Love, as my ultimate hope.
I was in Love. Literally. I lived, moved, and had my being in divine Love. I couldn't get away from it. It was always there for me and everyone. I realized divine Love had not only made me but approved of me. I was supported and upheld, provided for and adored!
More than that, divine Love triumphs over hate, and ever-present Truth overcomes every error. Just as light banishes darkness, and darkness is just a claim of the absence of light, God – infinite good – can eliminate every contrary supposition. I can trust this God, who safeguards all good.
I learned to start my thought process with God instead of myself. Otherwise, it's all too easy to end up with fallible, manlike concepts of God. And I was learning that the best idea of God leads to a much better view of myself. I have found this very liberating and encouraging.
I'm so glad I asked myself those hard questions, and started looking for what I could accept instead of defending against what I didn't believe. I'm so glad I became a seeker, for I found the God who is Love itself.
Polly Castor is a Christian Science Practitioner and member of First Church of Christ, Scientist, in Ridgefield, CT. She can be reached at PollyCastor@gmail.com