Beartooth Pass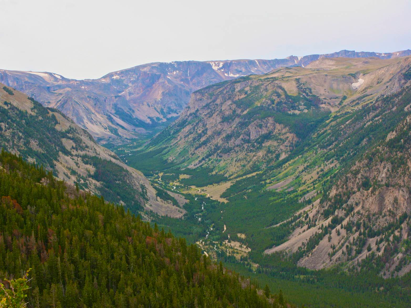 We came into Yellowstone through the Beartooth Pass from the north into the northeast entrance to the park. The Beartooth Pass has nine scenic switchbacks which quickly gain in elevation.
At an overlook, chipmunks begged peanuts and we saw storm clouds gathering at the top of the pass. Once we got up there, we had no visibility to the right or the left, and the fastest speed on our wipers was not fast enough. Neither were there guardrails on either side to keep us on the road; from the middle of this cloud we couldn't tell if the drop off at the edges was a few feet or hundreds of feet.
Lightning hit the pavement in front of us as we slowly proceeded, and it also streaked past us horizontally. Needless to say, we entirely missed the acclaimed views from the top. But once we started our decent into Yellowstone on the other side, and while we were singing hymns, light broke forth in front of us creating the dramatic lighting seen in some of the shots below. We thankfully continued on to a campsite that wasn't nearly as wet as predicted.