Mammoth Hot Springs & the Boiling River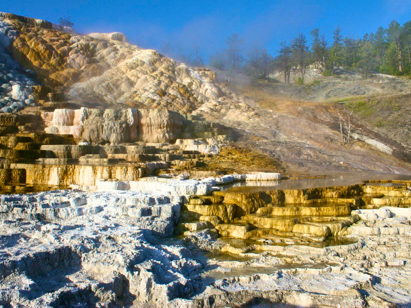 We woke up in the Mammoth Hot Springs Campground and went to the National Park Lodge for an affordable hot breakfast; I had trout Benedict and my daughter had chocolate chip pancakes.
We then visited the travertine terraces, which were built up over several thousand years of 170 degree flowing solution carrying two tons of calcium carbonate daily. The variation in the color of deposits has to do with the algae living in the liquid. All plants living in this stuff are killed, so where you see living plants in the flow, you know it is a new route for the thermal activity, which is changing all the time.
After a hike on all the terrace paths, we went for a remarkable swim at the mouth of the Boiling River, where it flows into the Gardner River. The hot springs vent into the Boiling River, creating a sizzling kelly green tributary, and when it meets the cool turquoise of the Gardner River, it averages to a wonderful hot tub temperature. Since it was a short hike to get there in a suit to swim, I have no photographs of the Boiling River, but you can see the Gardner River downstream below. This swim was a real treat, with lovely views to contemplate while you soak, after transversing dangerously slippery rocks in search of an optimal resting spot.