Movie Review: The Tourist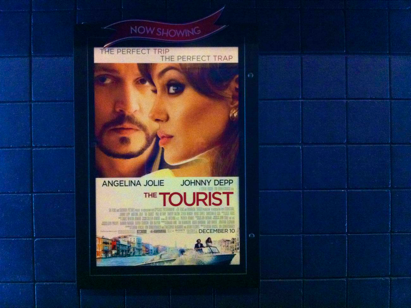 I saw this movie with two of my teenagers. I give it three stars. The plot was simplistic, and the pace was slow. Angelina Jolie was too chiseled, too imperious, and too plastic for my taste. And characteristically, Johnny Depp sported a haircut that flattered him as little as possible.
On the positive side, this takes place in Paris and Venice, and the scenery and clothing are wonderful. We are treated to trains and boats in this, rather than cars. In this PG13 movie, some people are killed, but it was not as overtly violent as I thought it would be, and there was no sex scene. There is a twist that helps the overall movie, but you don't know it until the end. This movie may entertain a wide swath of movie goers, like families over the holidays looking for something that can please divergent tastes, but in trying to have broad appeal, it ends up having very little.