Book Review: Outliers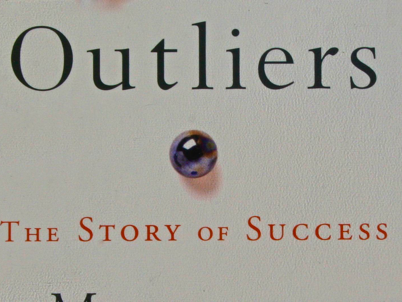 I liked this book by Malcolm Gladwell and give it five stars. He debunks the theory that success is based on talent and instead shows how it is mostly the result of opportunities and hard work. "Outliers" are people that represent a phenomenon outside of everyday experience, but Gladwell shows that these exceptional people are just ordinary folks who have a whole series of lucky breaks, advantageous circumstances, or conducive legacies. They are products of particular environments, who do meaningful work, and experience a clear correlation between effort and reward.
He says that to be an expert at anything requires 10,000 hours of effort, or three hours a day for ten years. (By that standard I've counted six subjects I'm expert at!) Hard work is the key to success, which should come as no surprise. The surprise is that talent and IQ have very little to do with it. He quotes a Chinese proverb, "None who rise before dawn 360 days a year fails to make his family rich."
Examples range from Canadian hockey players to Bill Gates and Silicon Valley tycoons, certified geniuses to Korean Airlines (this was my least favorite part about crashing planes), Italian immigrants living in Pennsylvania to New York City garment workers and corporate take over lawyers, rice paddy workers to the head of the Manhattan Project, as well as Jamaican mothers.
I learned why the Chinese have a built-in math advantage (which is fascinating!), and that the global air traffic language is English. I learned about a progressive school defying stereotypes in the Bronx called the KIPP School which has a longer school day as well as a longer school week and school year, which accounts for their success. I learned how community experience can serve to keep you healthy, and how useful advocating parents and a great cultural legacy can be. I learned that success follows a predictable course based on timely seizing of opportunities, doing "meaningful work," but more than anything, on simple old fashioned hard work. How long do you work at a problem before deciding it is too hard? That length of time will be directly related to your success.
I'd like my kids to read this book because it shows that anyone can succeed.