Book Review: Prisoners of the Sea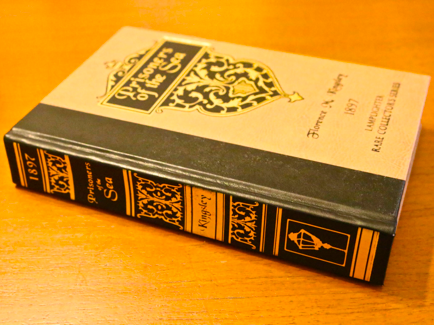 One of the advantages of our approach toward homeschooling is that we created a culture of reading aloud as a family. Having not done this in a while, and having missed it, we read this one together after a long hiatus. What fun!
I pulled this book off the shelf to read because it was one I had bought for homeschooling that we had never gotten to. I remember buying it from a Lamplighter booth at a homeschooling convention years ago. Our oldest daughter was still homeschooling at the time; she was friends with a kid named Josh who was an admirable fellow, and son to those manning the booth. In an effort to be conversational and supportive, I asked him what his favorite book was among their offerings and he recommended this one– so I bought it. But after all these years, we had never read it aloud…. until now.
Well, Josh knew how to pick them. We really enjoyed this tale of high adventure about God-loving Huguenots. First they were shipwrecked on the high seas, then there was a kidnapping, then a foiled elopement and an escape, followed by pirates what were bested by integrity instead of violence, then they were captive, then marooned, then…at long last after countless convolutions…a happy ending. There are plenty of mysteries that kept the pages turning, full of colorful characters, some corrupted souls along with those of exemplary moral fiber, not to mention lovely, faithful, fearless maidens. It is beautifully written, and the vocabulary is rich enough that there are footnotes explaining terms, where necessary. Some of the imagery was by turns quaint or inspired.
This thoroughly satisfying read is good for a large range of ages. It is fast paced and very engaging, but in a not scary way, since God is always there to help. This makes for the perfect read aloud next to a cozy blazing fire on chilly winter evenings with listeners whose hands are busy knitting or puttering over jigsaw puzzles. We gave it four stars.