Herbed Shrimp Bruschetta (Recipe)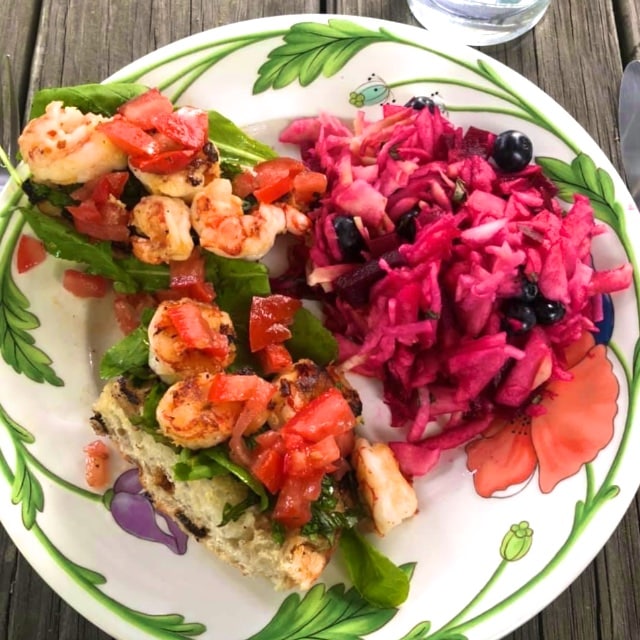 This was so good, my husband posted the above photo raving about it on Facebook, which he doesn't often do, even though the food is often incredible around here. That post accrued 135 likes, with a bit of clamoring for the recipe. So here it is.
This is refreshingly delicious! You might need to mop up with your napkin after eating it, but it is easy to make.
I set the shrimp in the fridge to marinate, and by the time I get the rest of everything done, it is time to grill the shrimp.
I served it with my Kohlrabi Salad with Beets and Fruit, which is also easy, and it was a perfect pairing.
You could use a loaf of ciabatta, but the rolls (available at Costco) are easy to split into four oblong pieces. If you are using a ciabatta loaf, you want to cut open-faced, oblong pieces, twice as long as they are wide, which will hold about three or four of your shrimp.
This recipe serves four, but you could easily multiply it or cut it in two.
Herbed Shrimp Bruschetta Recipe
1 pound raw shrimp, peeled and deveined
3 tablespoons good olive oil (divided)
1/4 teaspoon crushed red chili flakes
1 Tablespoon fresh lemon zest
sea salt and freshly ground pepper
6 Tablespoons butter or ghee, softened
1/3 cup flat leaf parsley leaves, minced
1 Tablespoon fresh thyme leaves
2 medium tomatoes, coarsely chopped
1 Tablespoon white balsamic vinegar
2 cloves garlic, minced
2 ciabatta rolls
1 cup arugula
Coat the shrimp with 2 Tablespoons of olive oil, the chili flakes, lemon zest, 1/4 teaspoon of salt, and 1/2 of freshly grated black pepper. Stir and let marinate in the refrigerator for 30 mins to 2 two hours.
In a small bowl, mix together the butter or ghee, parsley, thyme, and 1/2 teaspoon of salt.
Toss and combine the tomatoes with the vinegar, remaining Tablespoon olive oil, 1/4 teaspoon of salt, and 1/4 teaspoon of freshly grated black pepper.
Use a large serrated knife to slice the ciabatta roll in half crossways. Then slice each half into two.
Heat either your grill or grill pan on the stove to medium high.Place the bread on the grill cut side down, in batches if necessary, and cook until grill marks form, three to four minutes. Remove from the grill and place cut side up on plates. Let the cool a bit, then spread each slice with the herbed butter, and top each slice with arugula.
Add the shrimp to the grill and cook, flipping once half way through, until they are opaque and curled, about two minutes per side. Divide the shrimp evenly on the slices of prepared ciabatta, placing them on top of the arugula. Then sprinkle the chopped tomatoes on top.
Serve immediately.
Yum! Enjoy.