Kohlrabi Salad with Beets and Fruit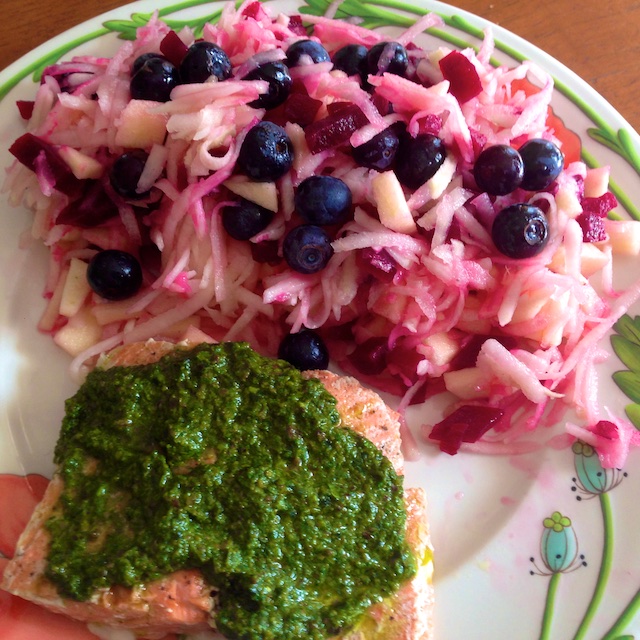 This light and delicious salad is completely original. I combined grated kohlrabi with roasted beets, apples, and blueberries, and it was an instant favorite over here. You'll be glad you tried it.
I use roasted beets enough that I usually have some on hand. If not, you'll need to roast some for this in advance, for they will need to be cool when you assemble the salad.
If you don't know what a kohlrabi is, I took a photo to show you below. They are available in either green or purple; either are fine for this recipe.
The arugula or herbs are optional, but try them if you have this often enough that you want to change it up.
This makes enough for four as a side dish.
Recipe: Kohlrabi Salad with Beets and Fruit
3 kohlrabi, stalks and end removed, peeled, and grated
2 beets, roasted, peeled, and diced
3 small apples (or two large ones), peeled, cored, and diced
1 generous handful of blueberries
1 lemon, juiced
1 teaspoon honey
1 pinch salt
chopped arugula, fresh basil, or mint (optional)
To roast the beets: Trim off tops and bottoms of the beets and wrap them together tightly in aluminum foil. Set the foil with the beets set into a pyrex pan or cookie sheet, and roast them at 400 degrees for two hours. Take them out of the oven and let them cool while still tightly wrapped. Once cool, remove the beets from the aluminum foil, and then peel and dice them.
As you chop the apple, put the diced pieces in the lemon juice, tossing them until well coated.
Mix all ingredients together, letting the beets stain the kohlrabi and apples. If adding the greens, add them at the last minute so they do not get too soggy.
Serve immediately and enjoy!