Recipe: Heirloom Tomato Bisque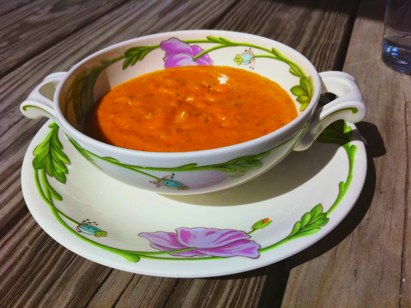 We've had a lot of tomatoes this season and this easy tomato bisque recipe is one of the yummiest ways to eat them!
Heirloom Tomato Bisque
4 lbs heirloom tomatoes
6 cloves garlic
1 onion
2 fennel bulbs
2 large carrots
1/4 cup fresh oregano
1/4 cup fresh thyme
handful of fresh basil leaves
4 cups vegetable stock
1/2 cup arborio rice
1 cup heavy cream (optional)
salt and pepper to taste
olive oil
Preheat oven to 425˚F.
Cut tomatoes in half and place in a baking sheet, drizzle with olive oil and season with salt and pepper. Roast the tomatoes in the oven for about 45 minutes.
While tomatoes are in the oven, julianne the onion and fennel bulbs and chop the carrots. Pick the oregano leaves, thyme leaves and basil leaves off their stems.
Heat 4 tbsp of olive oil in a stockpot over low/medium heat, add the onions, garlic and fennel and caramelize in the pan. season with salt and pepper.
Deglaze the pan with the vegetable stock.
Add the tomatoes from the oven to the stockpot. Add the uncooked rice and herbs to the pot. Simmer for 45 minutes. Then puree in blender. Add the cream, if desired, and season again if necessary.
Wow, this is good! Enjoy!