Potato Salad (An Actually Good Recipe)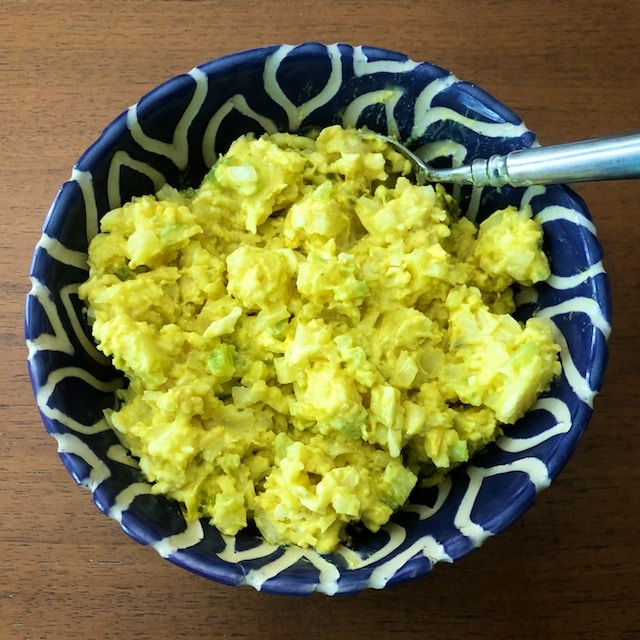 I've had a few good potato salads in my life that I still dream of, but frankly usually I'm not a fan. Usually they are too mayo-y, too starchy, or too flavorless. Also, they usually make too much and you hate it before its gone.
I've been on a Defined Dish kick lately (see Instagram here), so I finally risked making hers, and was delightfully surprised. Tons of flavor, only three potatoes, so it didn't make too much, and those hard boiled eggs balance it out a bit. Also, there's not a ton of mayo. Total slam dunk win! I couldn't call it classic, but it is closer to classic with its picnic table taste of mustard and dill pickles than my avant guard version of Warm Potato Salad with Leeks and Radishes.
I recommend serving it paired with my Kohlrabi Salad with Beets and Fruit. (See photo below.)
It's best if you make this ahead and serve it the following day, which allows the flavors time to settle down, meld, and fuse.
Actually Good Potato Salad Recipe
3 Yukon Gold potatoes (1.5 lb)
2 tsp kosher salt
one small onion, diced
1 large or 2 small stalks of celery, diced
3 hard-boiled eggs, grated
2 tbsp dill relish
3 tbsp mayo (my homemade here)
2 tsp dijon mustard
1 tbsp yellow mustard
1 tsp white vinegar
1 tsp hot sauce (something more interesting than tabasco)
1 tsp coconut sugar (optional)
1/2 tsp garlic powder
1/4 tsp ground turmeric
Peel the potatoes and cut into chunks. Place in large pot, and fill it with water until the potatoes are covered by one inch. Place over high heat and bring to a boil. Once boiling, add 2 tsp kosher salt and cook, boiling and uncovered, until the potatoes are fork-tender, about 10 minutes.
While the potatoes are boiling, place all other ingredients in a large bowl, and mix until combined.
Drain the potatoes and let the steam from the potatoes release, which prevents your potato salad from getting watery. When no longer steaming, but still hot, add the potatoes to the bowl and stir. Taste and add salt as desired. (I like it salty and the salt will mellow overnight in the refrigerator.)
Chill it before serving, overnight if possible.
Enjoy!