Warm Potato Salad with Leeks and Radishes (No-Mayo Recipe)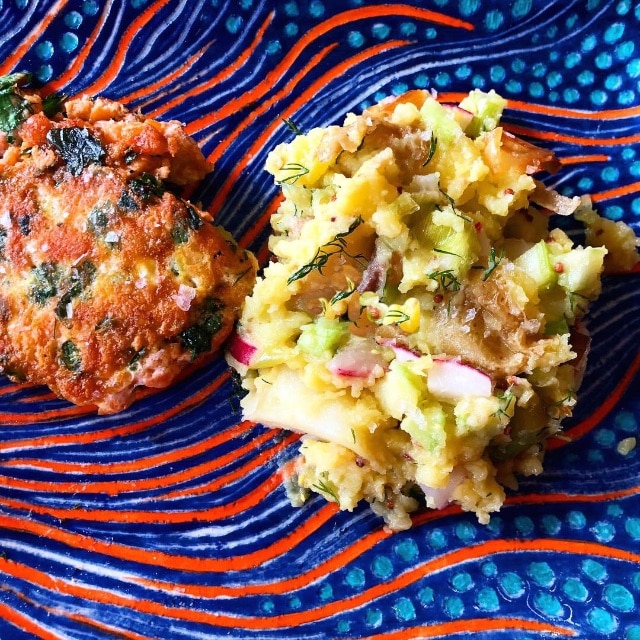 I'm not a fan of a mayo laden potato salad. This one with a mustard vinaigrette is much better. Served warm on cold days, instead of cold on hot ones, this is in no way your traditional potato salad! Give it a try and you'll see what I mean. Above I served it with my salmon cakes.
Recipe for Warm Potato Salad with Leeks and Radishes
1 1/2 pounds small (organic) new potatoes, scrubbed clean
sea salt and freshly ground pepper
olive oil
3 leeks, cleaned, trimmed, and chopped chunky
1 bunch radishes, trimmed and cut into small chunks
2 stalks of celery trimmed and chopped
a handful of fresh dill, fronds only
For the dressing:
1 teaspoon honey (leave out for vegan or Whole30)
1 tablespoon cider vinegar
4 tablespoons olive oil
1 Tablespoon whole grain Dijon mustard
1 Tablespoon Dijon mustard
juice of 1/2 lemon
Put the potatoes in a pan of well-salted boiling water, and cook for 25 minutes until they are tender when cut through with a knife.
Saute the leeks in a splash of olive oil and a pinch of salt over low heat, cooking (simultaneously along side the potatoes) for 25 minutes until they are soft and starting to caramelize brown in some places.
Meanwhile make the dressing by mixing those ingredients together with a good pinch of salt and pepper.
Add the leeks to the celery, radishes, and dill in a serving bowl.
Once the potatoes are ready, drain them and return them to the pan. Using a small knife, rough them up a little, slicing them haphazardly. Then add them to the serving bowl, and mix it all together with the dressing.
Serve immediately. (Or warm up leftovers in the oven for a short bit right before reserving.)
Enjoy!