Homemade Avocado Oil Mayonnaise Recipe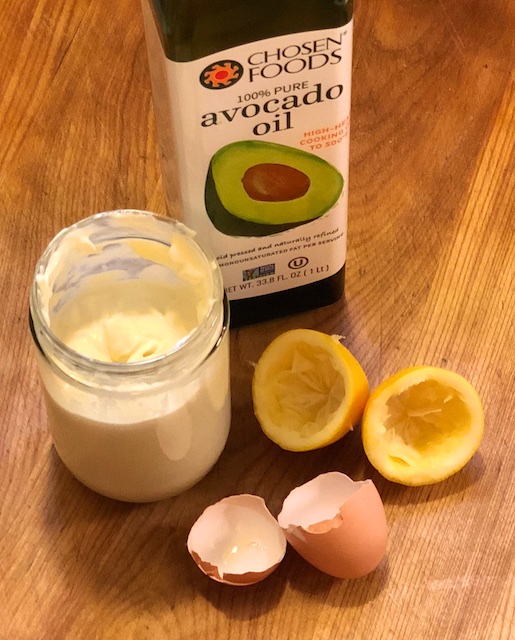 One of the things I learned doing the Whole30 is that all mayonnaise is not the same. Since canola oil is to be avoided and olive oil has too strong of a taste, avocado oil recommended instead in mayonnaise. Avocado mayonnaise is generally available (such as here) but is expensive.  It is best homemade and is not difficult at all.
I remember when I used to think of mayo as a base ingredient, and now I routinely and effortlessly make it. I buy a large bottle of avocado oil (pictured) at Costco, but have also seen it at Trader Joes.
Owning a Mini Cuisinart (such as this) for the purpose of making this mayo (as well as salad dressings and quick chopping herbs) has been a God-send for this project. A larger food processor would work fine but will be more cumbersome to clean out.
The trick to making this emulsify is to drizzle in your oil into the food processor slowly. The mini Cuisinart has a fancy small drizzle funnel (pictured below) to do just this. If you are using another kind of blender, just drizzle it in slowly, and it will be fine.
Also, set out your egg in advance (even overnight) to make sure it is room temperature. This is another key to making this work out well.
Try out this homemade mayo in these recipes and others:
Zucchini Noodle Tuna Casserole
Endive Tuna Boats with Avocado Pesto
Homemade Avocado Mayonnaise Recipe
1 1/4 cup avocado oil
1 egg, room temperature
1/2 teaspoon mustard powder
1/2 teaspoon salt
1/2 to 1 lemon, juiced
Place the room temperature egg in the food processor along with the mustard power and salt. While the food processor is running, slowly drizzle in the avocado oil. After you've added all the oil, and the mixture has emulsified, add in lemon to taste, stirring it gently to incorporate.
Store in the refrigerator, where it will thicken a bit when cold.
Enjoy!