Recipe: Leek, Scallion, and Fennel Gratin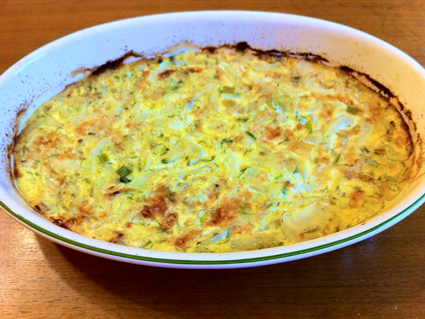 This was delicious and easy to make. I served it recently with fish smothered in pesto made fresh from the garden, and it was truly a wonderful meal. This recipe is from a beautiful cookbook shown below that I recommend as well.
Leek, Scallion, and Fennel Gratin
3 large leeks, white part only, washed, and chopped in 1/2 inch pieces
2 fennel bulbs, about 6 ounces each, trimmed, quartered, sliced thinly
salt and pepper
1 1/2 tablespoons of butter
1 bunch of scallions, including some of the greens, sliced
1/4 cup chopped fennel greens
1 teaspoon grated lemon zest
2 large eggs
1 1/2 cups milk
1/2 cup freshly grated Parmesan
Preheat the oven to 375˚F. Lightly butter a two quart gratin dish.
Bring a pot of water to a boil; add the fennel and a pinch of salt. Simmer the fennel until it is translucent, about two minutes, then drain.
Melt the butter in a wide skillet. Add leeks and fennel. Season with 1 teaspoon of salt. Cook over medium heat, for 10 minutes, adding the scallions for the last 5 minutes. Add the fennel greens and lemon zest. Taste for salt and season with pepper. Scrape the vegetables into the prepared dish.
Beat the eggs and milk together and add 1/2 teaspoon of salt plus the cheese. Pour it over the vegetables, then bake until the top is browned here and there in places, about 40 minutes. Let rest for a few minutes and serve.
Enjoy!