Gluten Free Crab Cakes (Recipe)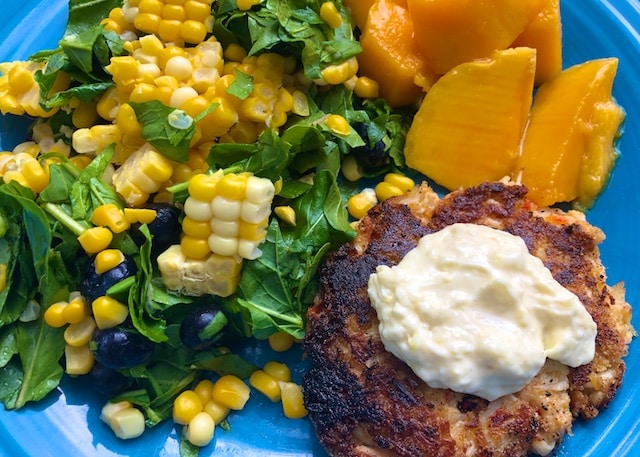 We usually consider buying crab beyond our budget. Cheap crab is not worth eating, and the good lump crab is $22 a pound at Costco. We used to only buy it for special occasions. But recently, when all the other fish from Costco was sold out, and with other options temporarily not available, we bought a pound. I'm so glad we did. With this newly updated recipe, it makes six large cakes, so we are happy to eat them one per meal, along with side dishes. All of a sudden it doesn't seem so unreasonable (at under $4 per serving of fabulous protein) to have this more often.
Previously, this was my crab cake recipe, and while I liked the saltine crackers in them better than breadcrumbs, I really don't want any filler at all. Besides, we no longer buy saltines, or have them on hand. This new recipe is crab, veggies, and a little non-grain binder. They are light, tasty, and since I make six and we only eat two, they make terrific leftovers. I cook all of them up, and refrigerate the other four patties for two totally quick meals, just warming them up in the skillet on low.
They are perfect topped with Lemon Garlic Aioli, so I'll include that recipe below as well.
Here, shown above, I served them with our Blueberry Corn Saladita (one of our favorite salads for this time of year), made with my husband's arugula and farmer's market corn. And we've really been enjoying the fabulous fresh mango we got at Costco. Below, is a photo of the warmed up (leftover) version; it is a little browner, but no less delicious. I served it that time with my Kale/Pear Salad with Lemon Thyme Dressing, and tomatoes/cucumber/avocado. The kale, tomatoes, and cucumber are all from our own garden as well.
For this recipe, source your crab either in the refrigerator section of your store or from your fish monger, and do not use canned crab, which will not be nearly as good.
Gluten Free Crab Cakes Recipe
For the Crab Cakes
16oz good quality lump crabmeat
1/2 cup minced red bell pepper (I whirled one homegrown pepper in my food processor)
1/4 cup minced scallions (also used food processor)
1 teaspoon Bay Seasoning
4 Tablespoons mayonnaise (my homemade here)
1 pinch sea salt
1 pinch black pepper
1.5 Tablespoon cassava flour
1/4 cup almond flour
3 Tablespoon avocado oil
For the Lemon Garlic Aioli
3/4 cup mayonnaise (my homemade here)
2 cloves garlic, minced
zest of one lemon
juice 1/2 lemon
1 pinch sea salt
In a large bowl, combine the crabmeat, red bell pepper, scallions, bay seasoning, mayonnaise, and cassava flour. Mix until combined.
Line a baking tray with parchment paper. Using a 1/2 cup measuring cup, scoop up the crab mixture and form into six uniform patties. Set them on the parchment, and refrigerate for 30 minutes to have them firm up.
Meanwhile, combine all the aioli ingredients.
Place almond flour on a plate. Take the firm crab cakes and carefully place each side in the almond flour, until both sides are lightly dusted.
Heat three tablespoons of avocado oil on medium high, and carefully set in the crab cakes in to sear until golden brown, about 3 minutes on each side.
Serve immediately with yummy aioli. Wow. So good. Enjoy!
(Store leftover cooked crab cakes and aioli separately in the refrigerator, and eat within a few days.)