Best Raw Kale Salad Recipe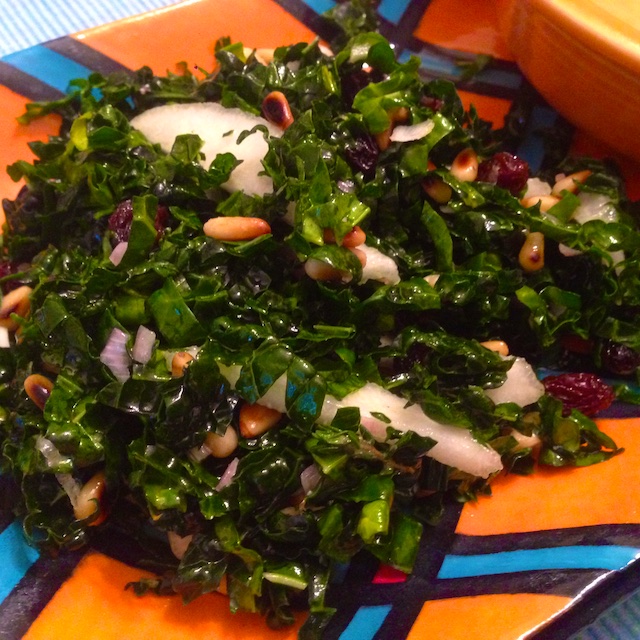 I have long been on the trail to really enjoy kale; my last acceptable recipe for raw kale was seven years ago (see here)! Thankfully, now I've finally hit on the perfect kale salad with this recipe.
I really love this. It is destined to become a staple in my house. It is that good. Try it; you'll be glad you did!
The dressing part of the recipe below makes about a cup, or approximately four of these salad's worth. Keep it in the refrigerator, and the next few times you make this it will come together very fast.
Use the kind of kale I suggest, and cut it in narrow strips (without the spine) to break up the fibers so it is no longer tough. Also, letting it soak 10 minutes in the dressing is an important step as well in making the kale soft and easy to chew.
Serves 4.
Best Kale Salad Recipe
2 bunches lacinato kale
1/2 cup organic raisens
1/2 cup pine nuts, toasted golden in a dry pan
1 ripe pear, peeled, cored, and sliced
1/4 cup Lemon-Thyme dressing (below)
Kosher salt and freshly ground pepper
Lay each leaf of kale upside-down on the cutting board and cut down both sides to remove the center rib. Stack a few leaves at a time and roll them in a tight oblong shape. Hold tightly and cut crosswise into thin ribbons. You should have about six cups of shredded kale. Put the kale in a colander or salad spinner and rinse well with cold water. Drain and dry well.
Combine the shredded kale, raisins, toasted pine nuts, and sliced pear in a bowl. Drizzle with the salad dressing and season with salt and pepper. Toss the salad and let it stand for about ten minutes.
Lemon-Thyme Dressing
1 shallot, minced
1 garlic clove, minced
1 Tablespoon fresh thyme leaves, stripped from the stem
1/4 cup white balsamic, or champagne vinegar
Zest and juice from 1 organic lemon
2 teaspoons honey
1/2 cup good olive oil
Kosher salt and freshly ground pepper
Whisk the ingredients together. Keep leftover dressing in the refrigerator.
Enjoy!