Pineapple Shrimp Scampi (Recipe)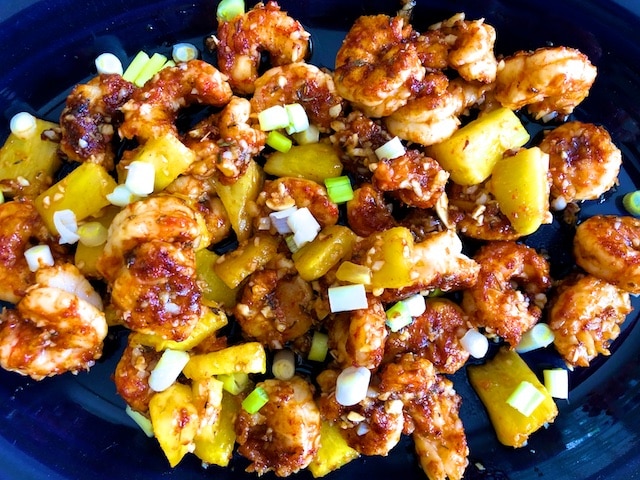 This is a Whole30 recipe by Kristin Buck from her Instagram account that I follow. It is both delicious and easy, and I'm sure I'll be making it lots. Give it a try; you'll be glad you did.
This serves three. I used frozen (thawed) pineapple, but you could also use canned or fresh. I served it here with yummy air-fried green beans, but any green side would be great. I do recommend eating this all when freshly made, the leftovers were not quite as wonderful, so plan accordingly.
Pineapple Shrimp Scampi Recipe
1 lb raw shrimp, deveined (we used shell off/she uses shell on)
1 Tablespoon arrowrroot starch
2 teaspoons smoked paprika
1/2 teaspoon onion powder
1/2 teaspoon garlic powder
1/2 teaspoon oregano
1/2 teaspoon thyme
1/4 teaspoon cayenne pepper (more if you want it spicy)
1/2 teaspoon sea salt
1/4 teaspoon black pepper
3 Tablespoons ghee
16 cloves of fresh garlic, finely minced (1/4 cup)
1 Tablespoon olive oil or avocado oil
3/4 cup pineapple, chopped
1 Tablespoon coconut aminos
3 scallions, chopped, for garnish
Use a towel and blot off excess moisture from the shrimp.
Mix all the dry seasonings in a bowl, and toss into the shrimp until evenly coated. Set in the refrigerator for 20-30 minutes.
In a large pan over medium heat, melt the ghee, and add the garlic, stirring constantly for 3-5 minutes, until softened and fragrant, without allowing it to toast or burn. Remove the garlic/ghee mixture from the pan to a small bowl and set aside.
Add the oil to the pan, and increase the heat slightly. Once the oil is hot, lay in the shrimp in an even layer. Cook 2 minutes per side.
Add back in the sautéed garlic and ghee mixture, the pineapple, coconut aminos, and stir. Make sure the garlic is coating everything evenly.
Remove from heat, use a slotted spoon to put on a serving platter, and sprinkle with the scallions. (I saved aside the remaining ghee for use in other things later.)
Enjoy!