Recipe for Great Crab Cakes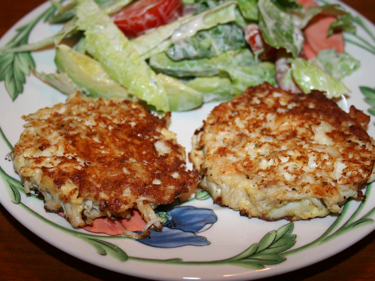 Having been in Maryland recently, I finally had what was reported as the area's "best crab cake," but I have discovered they have nothing on mine. I can't really take credit for how good mine are since I use Martha Stewart's recipe. (see here). The only thing I do different is I separate the batter into eight patties instead of four, which I think is better. The crab cake I had in Maryland (that was so raved about) was enormous and I was stuffed after eating one. I prefer two smaller ones.
As recommended, I use Martha Stewart's horseradish tartar sauce (see here) which finishes the crab cakes off to perfection. However, I make my tartar sauce in a food processor which makes it come out less lumpy than hers, which has the advantage that it is easier for me and more kid friendly. My family is always very happy when I make these about twice a month. Crab is relatively expensive, but we buy it at Costco, and we all know it is a special treat. And after all my reading about overfishing, environmentally, crab is some of the best all around seafood protein you can eat. It is also nice that this recipe uses all the crab in the container, so the amounts come out just right, and none of the precious stuff is left festering in the refrigerator. See other pictures below. I hope you make them and enjoy! This recipe is surprisingly easy and delicious!