Veggie Pie Recipe with Butternut Squash, Kale, and Gluten-Free Crust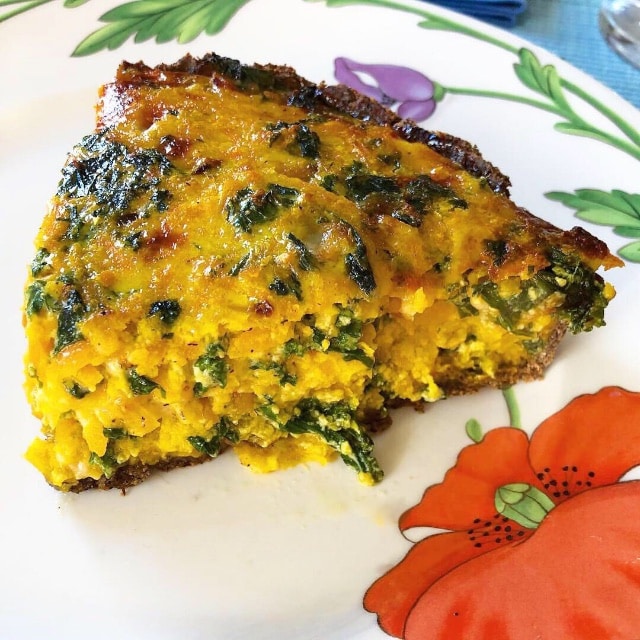 This recipe takes some time, but it is so worth it. This is just about as good as vegetarian eating gets. Every mouthful we exclaimed how good it was! And the gluten free crust made with buckwheat flour is delicious too.
This recipe is adapted from another of Anna Jones'. She is an English cookbook author and weighs her ingredients, so I have followed suit here. To make this recipe, you'll need a kitchen scale as well as a food processor.
Regarding the butternut squash, use a whole one if it is small; otherwise, just the neck of a larger one (of the type grown around here). Grate it in the food processor (this is much easier!).
Leftovers warm up nicely (see bottom photo, browning a bit more) and are still wonderful.
If making this for company, make the shell and the innards in advance and just put together to bake when desired.
Veggie Pie recipe with Butternut Squash and Kale
For the gluten free pastry:
100 g gluten free flour (see photo below)
100 g buckwheat
1 teaspoon of salt
1 Tablespoon fresh thyme leaves
125 g butter, cold from the fridge
4-6 tablespoons ice cold water
a small amount of egg, beaten
For the filling:
olive oil
1 red onion , peeled and finely sliced
1 butternut squash, peeled, seeded, and grated
2 bunches of kale, stalks removed, leaves shredded
sea salt
freshly ground pepper
3 organic, free range eggs
1 2/3 cup cream, half and half, whole milk, or almond milk
3 1/2 oz (100 g) Gruyere cheese
freshly grated nutmeg
Make the pastry in the food processor. Start by mixing the flours, salt, and thyme together and pulse in the processor. Next, add the butter and pulse in the processor until you have a rough bread crumb consistency. Now add the water, tablespoon by tablespoon, pulsing each time, until the mixture comes together as a dough. Shape into a ball, wrap in cling wrap, and put it in the fridge for 30 minutes.
Preheat the oven to 415ºF.
Make the filling. Heat a large pan and add a splash of olive oil, then the onion, and cook for 10 minutes until soft. Add the grated squash and shredded kale, plus a good pinch of salt and pepper, and cook for a couple of minutes. Set aside to cool.
Once the pastry is chilled, roll it out on a floured surface into a large circle just bigger than a 9 1/2 inch fluted tart tin or quiche pan. It should be about 1/8 inch thick. Roll the pastry over your rolling pin and lay it over the tart tin. Use your fingers to push the pastry into the edges of the pan, and pinch around the top of the pan at the edge. Place back in the refrigerator for another 10 minutes.
Cover the pastry with a circle of parchment paper and use some old beans or pie weights to weigh it down. Bake for 15 minutes, then take it out of the oven, removing the beans and the paper. Brush it with a little egg and return it to the oven for 10 minutes. Take it out of the oven, leaving it on.
Break the eggs into a measuring cup and beat well. Pour milk on top of the eggs until it reaches the 2 cup mark, then add a good pinch of salt and pepper, a good grating of freshly grated nutmeg (about 1/4 of one nutmeg), and the grated cheese. Add this mixture to the cooled squash mixture and mix well. Pour into the pre-baked pastry shell and level the top. Bake for 35 minutes, until just set.
Serve immediately.
Enjoy!