Today's Poem: Garbage Removal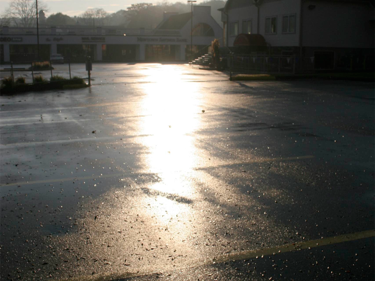 Garbage Removal
I'm up praying at four in the morning.
Misty, moist, cool air
refreshes, wafting in on tendrils
from the open window.
The only sound I hear is
the massive bang and clunk
of a garbage truck
with hulking mechanical biceps in grinding metal arms,
picking up those hugely heavy commercial containers,
dumping out their contents into it's smashing hold,
and then clanging them back down
with monstrous, scraping, hollow thuds.
The whining motor revs off to the next stop
haltingly shifting gears against the solitude of the night.
It's a wonder everyone is not awakened.

I think God is doing the same for me
only more quietly
turning me upside down
and shaking out all the trash.
I myself too
am empty of refuse again,
ready for a new day.
Cleansing rain starts to patter gently
as stillness is restored,
and the Sanitary Engineers, both earthly and divine
continue on to remove our unwanted stuff
to God knows where.

Let it be truly gone,
recycled productively
returned to its native nothingness
rendered innocuously inert
never to plague us again.
Then that would be called a healing.

by Polly Castor
May 1, 2009