Curried Tuna Cakes (Recipe)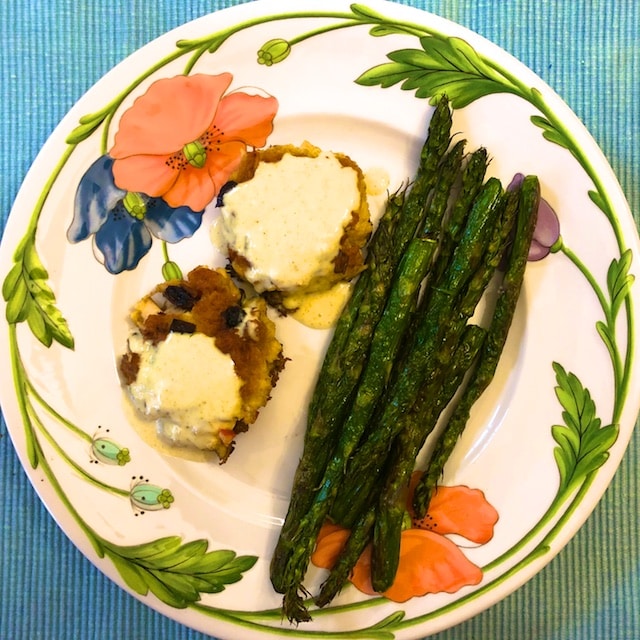 Need to make something nourishing fast? These are quick, delicious, and made with pantry ingredients.  I got the recipe from Alex Snodgrass' Defined Dish cookbook. These are the perfect protein for any veggie side, it is shown above with Roasted Asparagus, below with Corn Chowder, but is great with salads too, or other soups, or veggies.
This is a new take on a similar family favorite, Curried Tuna Salad with Apples and Raisins and because these cakes are so easy and so good, I'm sure they'll often find their way to our table. The sauce here provides just the right moisture for these to be especially succulent and yummy, so don't skip it.
This recipe makes eight patties, or four servings. I recommend cooking them all up into patties right away, even if you are planning to save some as leftovers. They dry out in the fridge if you wait to cook the remaining ones up later; they'll get crumbly, if you don't do them right away. Cooked into patties in advance, they are easy to warm up at another time, as desired
Curried Tuna Cakes Recipe
For the sauce:
1/4 cup homemade mayonnaise
1/4 teaspoon sea salt
1/4 teaspoon curry powder
1 tablespoon fresh lemon juice
For the Tuna Cakes:
2 (5 oz) cans of albacore tuna, drained
1 large egg
1/4 cup finely diced red pepper
1/4 cup sliced scallions
1 teaspoon curry powder
2 Tablespoons homemade mayonnaise
1/4 cup almond flour
1 Tablespoons raisins
1/2 teaspoon sea salt
1/4 teaspoon freshly ground black pepper
2 Tablespoons avocado oil
Make the sauce by combining all those ingredients.
In a large bowl, break up tuna with your hands into flakes. Add the egg, bell pepper, scallions, curry powder, mayo, almond flour, raisins, salt and pepper. Mix until well combined.
In a large skillet, heat the avocado oil over medium-high heat. Scoop 1/4 cup of tuna mixture to make patties, and carefully place in the pan. Let them fry until golden brown, about 3 minutes a side.
Serve topped with the sauce.
Enjoy!