Sweet Corn Chowder (Recipe)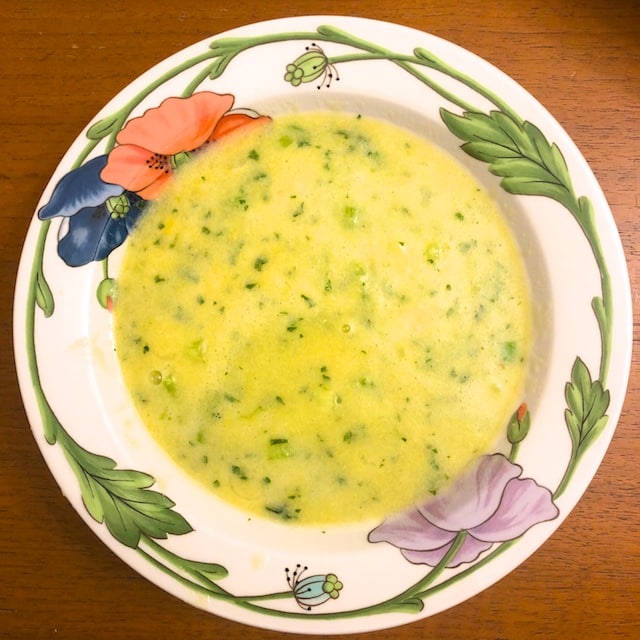 I'm so glad I bought the corn to make the fabulous corn chowder that the cooking teacher had his class make last week at camp. Below is Todd Jacob's recipe that he was gracious enough to give me.
It uses 24 ears of corn, but I made it using eight, dividing the recipe by three, and also with 48, doubling it. It worked well and was delicious. His recipe below, he says makes eight portions. I think it makes more than that, but maybe I had particularly fabulous, huge corn, or more modest serving sizes.
It is surprising when you eat this that there is no cream in it. The unique thing here is that you make a sweet broth by simmering the corn cobs in water as the first step. I've never done that before.
This recipe is very simple, not at all labor intensive, and has immediately found a happy place in our cuisine over here.
Give it a try with fresh corn of the season! I served it last night with Salmon Cakes and watermelon.
Sweet Corn Chowder Recipe
1 Spanish onion, diced
24 ears of organic fresh corn
12 cups of water
8 oz organic butter
2 Tablespoons kosher salt
1 bunch scallions, sliced
1 bunch cilantro, chopped
Husk corn and cut kernels from the cob. Place the cobs in sauce pot with water.
Bring to a simmer and cook for 15 minutes. Strain water and discard cobs.
Place 2 tablespoons of butter in sauce pot, add diced onion and 1 tbs salt, and cook over low heat until soft and translucent.
Then add the other tablespoon of salt and 2/3 of corn kernels. Cook over medium heat until softened slightly.
Add cob cooking liquid and bring to a simmer, and cook for 10 minutes.
Puree with a hand blender, or in batches in a blender or food processor, with the remaining butter-reserving 2 tablespoons to cook the remaining corn.
Cook the remaining corn in the remaining butter, seasoning with salt and pepper, if necessary.
When the kernels are tender toss them with the scallions and cilantro. Add the pureed corn mixture, and reheat to serve. Garnish with fresh cilantro leaves.
Enjoy!