Like Vegetables in a Garden (Newspaper Article by Polly Castor)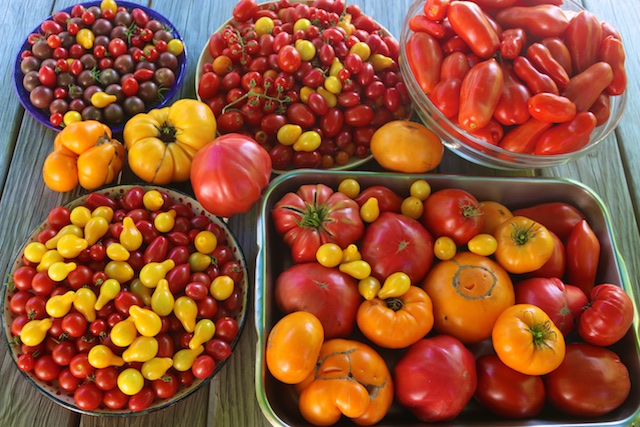 I am a regular, periodic writer for the Forum on Faith column in three Connecticut newspapers: the Danbury News-Times, the Stamford Advocate, and the Connecticut Post. When I get a paper copy of it, I'll include a photo of that as well. You can read today's article on line here, here, and here, or below:
In our garden we grow red tomatoes, yellow tomatoes, striped tomatoes, and deep burgundy colored tomatoes. Some tomatoes are tiny balls, bursting in your mouth, some are huge, heavy, and filling your whole hand, while still others are medium sized, meaty, with fewer seeds. We grow long yellow peppers perfect for sautéing, beautiful, crisp, red peppers perfect for roasting or eating raw, and some slim hot peppers, where a little goes a long way.
We also had red mustard greens and green mustard greens. They grew next to each other in complete neighborly equanimity, without being bothered at all by their differences. Truly, they were so busy being who they needed to be, they didn't feel a need to defend themselves.
It is very clear to me that God rejoices in diversity and expects us to as well.
As a Christian Science Practitioner, I sometimes request clients to make a list of God's qualities and attributes. I encourage them to to come up with at least 300.  Here are just a few possibilities to get you started: merciful, kind, patient, good, all-knowing, generous, intelligent, joyous, harmonious, eternal, powerful.
The Bible tells us in the first chapter of Genesis that we are made in the image and likeness of God. Therefore, Christian Scientists strive to understand mankind as Godlike, instead of defining God with manlike characteristics, as human philosophies so often do.
In thinking of the list of Godlike qualities, and realizing that we reflect each of them as God's image and likeness, we begin to understand what we must be as well. Some qualities and attributes on our list we easily identify with, while others seem a stretch or even laughable when we try to apply them to ourselves.
Even if we seem to fall short, Christian Scientists believe we actually do include all of those Godlike qualities; we are works in progress. With practice, we can express more and more of who God originally created us to be.
Christian Scientists look to Jesus as the one who best exemplifies this whole spectrum of the Godlike qualities and attributes. We feel he set that supreme example to show us what we are supposed to be and do ourselves.
But that can seem like a tall order, which is why I suggest making a list God's attributes. It is sort of like a spiritual to do (or to be) list to help keep us on track.
But what is interesting, is that none of God's attributes are material. Not one is about color, size, or country of origin. Each of God's qualities work in unison with all of the others, and cannot act independently on their own. None of them have a mind of their own. None of them are negative, nor do they consort with evil, intimidation, or fear.
God, the Creator, is infinite, and this list of spiritual qualities and attributes is endless as well. There is so much vast good we are made to include! But even though each one of us is comprised of all right ideas, we are unique individuals as well. It's as if each of us is a number, that if missing, would cause the whole principle of mathematics to collapse.
I believe we all have a special place and purpose in the whole; otherwise we would not have been created. The Bible talks about different parts of the body of Christ. The hand and the foot might not see things the same way, but they are both needed exactly as they are. I see diversity as key to how creation best operates, while the underpinning of shared qualities and attributes is also important, because it brings unity to all of creation.
Let us rejoice in our mutual uniqueness and diversity. Let's embrace and give thanks for it, and utilize it for the common good. And let us individually and collectively work to better express our unity through increasingly embodying all those Godlike qualities and attributes that we can. Let us honor and amplify those qualities and attributes in ourselves and each other.
None of us are redundant or unnecessary. I have found God's design to be so much more varied, intricate, and fresh than most people notice or realize. I thank God that all tomatoes are not the same, and rejoice that all varieties are equally, but uniquely, wonderful. I feel that way about people as well.
by Polly Castor, a Christian Science Practitioner, and member of First Church of Christ, Scientist, Ridgefield. She can be reached at PollyCastor@gmail.com