A Sad Shock at New Pond Farm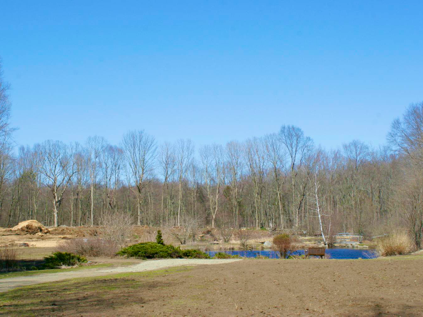 We finally scored a lovely Saturday up in the 50's, so I stopped by New Pond Farm with my camera in the hope of catching baby lambs.  While I spend a lot of time at New Pond Farm three seasons a year, in the winter we only stop by the barn at night once a week to collect our eggs and milk, so I was unprepared today for what I saw.
A huge swath of 70+ year old evergreen forest that used to be in the photo above is now just gone. Poof: compliments of a microburst during Hurricane Sandy. The pile of logs shown below (as well as fond memories) are all that remains.
I couldn't get over it.  What a radical change. That place was special to me!
Check out below photos I took of this precious spot just last summer; those beloved trees insulated you from the world beyond; they embraced and wrapped you in a hush of calm; that forest was always a welcome, cool refuge from blazing sun; it was a place of uncommon reverie, with mounds of needles, like shock absorbers, bouncing underfoot.
Also, last spring I recorded these spring peepers nestled next to those tall pine trees, so you can check that out too.