Movie Review: Theory of Everything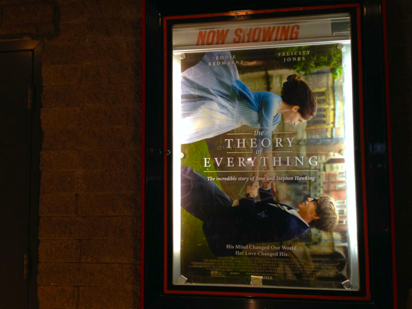 This exceptional movie is about the life and love of the remarkable physicist Stephen Hawking, who is crippled but not stopped by Lou Gehrig's disease. In his twenties he was given two years to live, and now he's still alive and brilliantly working at seventy-two. The difference was the love and devotion of his girlfriend who stood by him, didn't give up on him, married him, and even had three children with him.
The movie is very well done; you come to care about these two characters, and feel for the predicament both find themselves in. Stephen Hawking's groundbreaking work relates to proving the universe is without limits, so it seems fitting that he would defy the limitations put on him. And surprising solutions are found at every turn. For example, Stephen Hawking relies on technology that didn't exist when they started this journey. Also, the ending is not as either of them expected, but is still good.
Love made all that good possible. When asked about what helps him (since he doesn't believe in God) he says, "Where there is life there is always hope." He has certainly proven that to be true. It makes me wonder what he'd think of my belief that Life is God?
I did come out of this movie feeling rather melancholy. It raises as many questions as it answers, but I give this incredibly well acted and beautifully produced film five stars anyway. My hat is off to the film people, but also to Jane and Stephen Hawking. The human spirit is a precious and amazing thing.