Vegetable Korma (Recipe)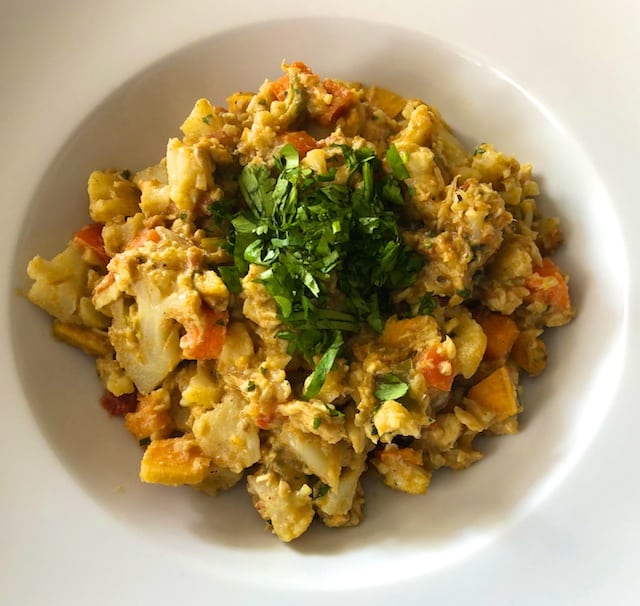 In solidarity of our Indian friends celebrating Diwali last weekend, I made this classic vegetable korma. It was really delicious and easy to make!
The usual, authentic version is vegetarian and vegan, but I added (completely optional) fish to round it out as a more fully balanced meal. It is good either way.
Leftovers of this taste great too!
Vegetable Korma Recipe
Blend in a blender or food processor and process until smooth:⠀
1 medium onion, peeled and halved⠀
3 cloves garlic, peeled & roughly chopped⠀
1-inch piece ginger, peeled & roughly chopped⠀
1 green chili, chopped (optional)⠀
1/4 cup raw cashews⠀
1/2 cup water⠀⠀
Measure out the spices into a little bowl:
2 tsp curry powder⠀
1/2 tsp cinnamon powder⠀
1/8 tsp ground cardamom⠀
1 tsp ground turmeric powder⠀
1 tsp garam masala⠀
1/2 tsp coriander powder⠀
1/2 tsp salt (or to taste: we added finishing salt at the table)⠀
1/2 tsp ground black pepper⠀
Other ingredients:⠀
1 tbsp avocado oil
2 small tomatoes, diced⠀
1 can unsweetened full-fat coconut milk⠀
1 sweet potato, peeled and diced⠀
1 cauliflower cut into florets⠀
1 cup bell peppers, chopped
1 carrot, chopped
4 tilapia loins (or any mild white fish) (completely optional)⠀
chopped fresh cilantro (for garnish)⠀
Place the onion, garlic, ginger, chili, and cashews in a blender along with 1/2 cup of water. Process until smooth.⠀
Heat the oil in a large pot. Once hot, pour the blended sauce base mixture into the pot.
⠀
Add all your spices and allow to cook for 2 to 3 minutes, until fragrant.
⠀
Add the coconut milk, vegetables, and fish (if using). Stir well, cover the pot, and allow to simmer on medium/low heat for 10-12 minutes or until the sweet potatoes are tender, and the fish (if using) has flaked apart.
⠀
Garnish with freshly chopped cilantro.
Makes 4-6 servings⠀
Enjoy!