Recipe: Tuna Casserole with Coconut Milk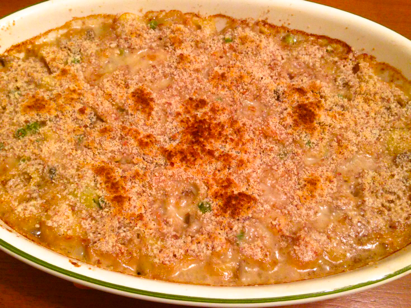 This recipe is a personal triumph because it was born out of an eureka moment. We haven't had a classic tuna casserole in years because they usually call for canned soup that contains bogus ingredients. I've made and enjoyed gourmet versions – like this – but have missed the old standby. Recently when cooking soup with coconut milk, I realized that coconut milk could be my answer. So I gave it a try, winging it as I went. The results were both easy and excellent. And the leftovers were just as welcome as the dish fresh out of the oven. Success! My family's response? "Quick, write it down!" As you can see in the lower photos, I used light coconut milk (because it did not have carrageenan in it) as well as really good pasta, direct from Italy. Also, I used leftover rice from our refrigerator which could be substituted with whatever you've got that sounds like it would go well with this, like corn, quinoa, faro etc.
 
butter for greasing dish
2 tablespoon olive oil
8 ounces of mushrooms, cleaned and sliced
1 medium onion, chopped
1 can light coconut milk
2 cans tuna
1 cup frozen peas
1 1/2 cup of shredded cheese (I used goat cheddar)
1 1/2 cups dried pasta , cooked as per package
1/2 cup brown rice (I used leftovers so consider this optional)
1/4 cup almond flour
1/4 cup parmesan
 
Preheat oven to 400˚F
Cook pasta following package instructions.
 
Grease a casserole dish (I think mine above is 2 quart.)
 
Sauté mushrooms and onion in olive oil at medium heat in a large skillet. When mushrooms are browned and have released their liquid and onions are translucent, stir in the coconut milk. Cook 5 minutes, until well incorporated.
 
Add the tuna, peas, leftover rice, cheese, cooked pasta, and mix well. Transfer to a casserole dish.
 
Combine almond flour with the parmesan and layer it across the top.
 
Bake 20 minutes until hot, followed by 2 minutes under the broiler if more browning is desired.