Black Ice on Cain's Hill Road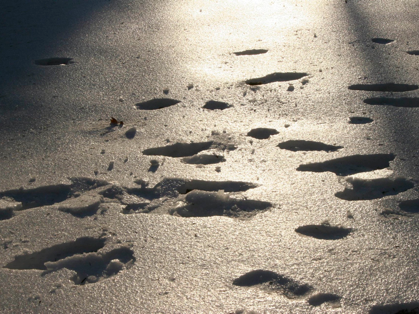 My family had left at the crack of dawn for the FIRST Lego League State robotics Tournament. I stayed behind because I had a lot of work to do. It feels odd whenever I have the house to myself because it is so rare. I felt like I wanted to play hooky from church because I never do; it was warm and quiet inside and I could have worshiped there as well.
But I brushed off that suggestion as laziness, and after all, I had obligations to connect with. After church I considered staying in Ridgefield for lunch awaiting the library opening at 1:00 because there is a book I wanted, but I talked myself out of that; I shouldn't spend the money, and after all, I had the quiet house to myself so why not go and enjoy it?
I did stop off at Ross' Bread for a homemade loaf as a treat for lunch and headed home. I can't help wondering if any of these choices had been different, how much else might be different? Was God trying to instruct me and I didn't get it?
There is a very steep hill called Cain's Hill Road, that when you go up it, you understand why the town at the top is called Ridgefield. We frequent this road to and from Ridgefield a lot. It was raining and I was contented with the prospect of an effective afternoon in front of me. It didn't occur to me that this rain was falling on very cold ground.
All of a sudden, I had no control of the car. I was careening down a steep hill of black ice. Pumping my breaks meant nothing. I downshifted and pulled the emergency break with no effect.
The road at the bottom of the hill was completely blocked by a jackknifed blue van and a silver car alongside it. The woman in the blue van was trying to get her four year old out of the car and I was heading straight for her.
She was having trouble because of impossibly slippery footing. I kept thinking that I couldn't live with having killed her. I was shouting, "My God! My God!" at the top of my lungs. But my conscious mind was hyper aware. I took in the stark fear on her face as she saw me coming straight for her. I saw terror there as I've never seen it before. She was desperate to save the child. I was desperate to save them both. I did not think that it might be my own end.
I needed resistance to slow me down and give her time. I needed to achieve coming in at an angle to give her room. Still sliding – hurtling – down the hill fast, I did some rapid calculating, all my physics training leaping into split second action. I intentionally ground my front left wheel into the stone wall and broke my wheel off. It did the trick on both accounts; it effectively slowed my impact and angled my car to give the woman and her boy a triangle of safety in which to stand.
I was in shock; I had stopped. I hadn't hit her. Both the woman and I frantically called to each other, "Are you alright?" Yes, we were both alright. A man was pulling me out of my car, insistent I hurry before the next car came plunging down the road. The ice was impassible; I would not have made it without him holding on to me. I kept saying, "Oh my God, Oh my God." The next car came down the hill, missing mine by jackknifing sideways as you can see in the photos.
It turns out the nice man who got me out of the car owned the house we were in front of. There were ten cars involved in the pileup and I was in the middle. He took the various kids in his house to keep them warm and calm. I was glad to be alone; I can't imagine having to think that straight with other people screaming in the car.
All the drivers stood for hours in the cold rain, waiting for the police, and then the sand and salt trucks, followed by the tow trucks. The man (Peter) brought me tea – peppermint – my favorite. I met his wife, Lauren; she looked familiar and it turns out she is president in the Guild of Artists where my painting is right now. My church clothes were not the warmest, but at least I had my boots on and had worn the coat which better repelled the rain.
All the folks were generous and nice. The woman I had almost hit was named Karen. The four year old was the youngest of her three boys; her other two were in a dance rehearsal around the corner. A woman in heels got loaned a pair of shoes. Another driver gave me an umbrella. One driver's daughter sings in the same choral as my daughter's friend. The woman that missed me in the behind was an immigrant from Brazil. One couple had just removed collision from their policy. The policeman was very complimentary on how well we did having no human damage. He documented that the situation was no one's fault. The sand, salt and tow truck guys were all kind and amazed it wasn't worse. The strangers all pulled together, not strange at all, more like neighbors and would-be friends.
The car I dearly love got towed away. I don't have money to replace it and it is old and of low book value. It's front axle is snapped off, and it is smushed in the front, which unfortunately is where the engine is. I pray it is fixable. The immigrant lady was very sweet and drove me home.
I'm grateful I'm okay, and very grateful that Karen and her son are okay. Before parting, I hugged her and told her I loved her. I meant it, and although surprised, I think she knew it was true. I had fiercely defended her life and thought of it more than my own. I had truly loved my neighbor as myself. Even though she was unknown to me, I instinctively understood her human existence was sufficient warrant for that.
In one way, this experience was all very scary and upsetting. One can plummet into a dire situation with no notice nor warning. Both my transportation and finances have taken a hit at a time that was challenging enough.
But in another way, I experienced how much thinking one can actually do in less than a minute. Time slows and we comprehend and assess at lightning speed. When it doesn't look like there are choices, ones can be found. And the human family is really one, without so much differentiation after all. I found this all oddly comforting. I have much to be thankful for.
The policeman called the weather an "act of God." I'd have to disagree. I also don't think God knew it was going to happen and was trying to warn me away, as may be thought from the first paragraph. I do believe that our choices govern us, whatever direction they take. I also believe that "accidents are unknown to God," since I have more faith in living than in dying. It didn't escape me that the topic in the church service I had just come from was, "God the Preserver of Man." The benediction I had just heard was from Psalm 91, "He shall give His angels charge over thee, to keep thee in all thy ways." I feel this was born out on that hill, as it must still be. Somehow good is always going on, since to me, God is ever-present all-powerful good itself. This story is not over. Good is still unfolding. I'm ready for God to dazzle me with it.
(Note: The photo below was taken from the Ridgefield Press website.  In the photo below, you can see my silver VW where it landed in the door from which the woman was retrieving her child. You can also see how small the triangle of safety was that I was able to create for them. And that's my broken wheel next to my car.)
(Also note: The follow-up to this story can be read by clicking here.)