Fall Semester of my High School Abstract Art Class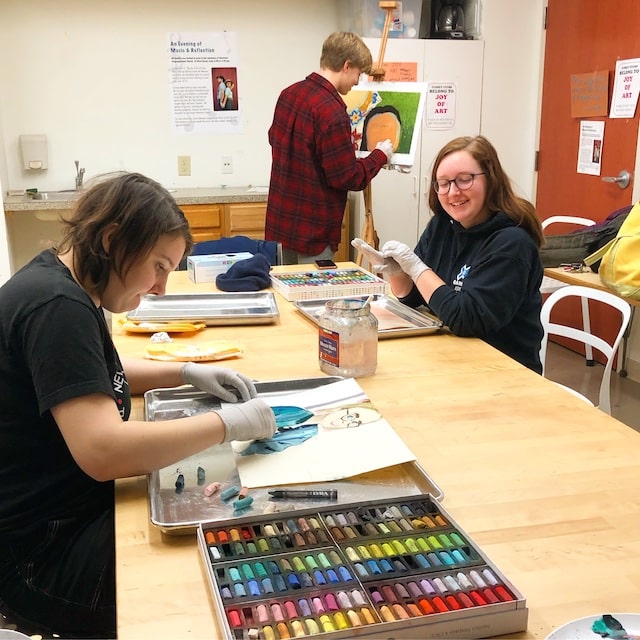 For the last few years I have been teaching a Monday morning abstract art class to high schoolers at a local homeschooling co-op. In the past, we've explored techniques and concepts with acrylics or watercolors; this fall we explored abstract landscapes, abstracted things, and abstracted people, using pastel. I was able to obtain good pastels on the cheap for them when I visited the International Pastel Convention last June, and brought them home with me on the plane.
I had only three students this fall, and unfortunately not all are able to return for next semester, when I hoped to take them on the rest of the range of abstraction (abstract expressionism, abstract conceptualism, and non-objective art), so our fun has ended too soon, only halfway through. I will miss them, and I think abstract art is especially important for teens, who need venues to express their individualism, and to be encouraged to be brave enough to step out in authenticity. Abstract art is a perfect way to practice these life lessons.
All three did fabulously in this class. Unfortunately, it seems I was too engaged with them to do the job well of recording with photos all of my favorites of what they painted. There are a few paintings missing from this blog that I grieve not having taken photos of!
But there is enough here for you to get the spirit of how wonderful they are. I love that each time the same assignment would come out in three totally different ways. They did some daring things that worked out for them, they had fun with the adventure, and know how to lovingly critique one another's work as well.
In the last photos you can see the paintings each of the three chose to have in our little class show yesterday for the community. I'm so proud of them! I hope they keep painting, and I want to know each of them always.