Polly's Mom's Yam and Cranberry Casserole (Recipe)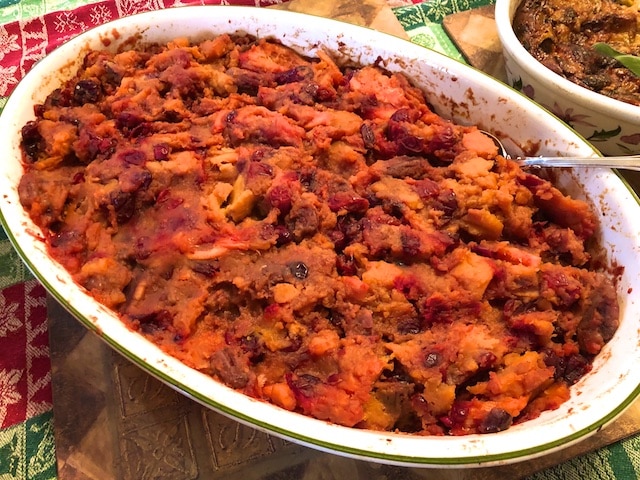 My mom made this for Thanksgiving, Christmas, and New Year's. One taste of it is a blast back to childhood for me.
We do not consider it a regular weekday side dish, because it has sugar in it, so it gets relegated to special meal status in our house. It is so easy to make– and delicious– you'll be glad to have this in your repertoire too.
The dish we made for our Church Christmas Party yesterday, shown above, is a double recipe. Each recipe makes eight servings worth. The photo below, shows step one for a single recipe's worth, although the oranges should have been cut in quarters.
Polly's Mom's Yam and Cranberry Casserole Recipe
1 can (40 oz) yams, drained and diced
3/4 cup sugar
1/2 cup pecan halves
3/4 teaspoon cinnamon
1/4 teaspoon nutmeg
1/8 teaspoon mace
1 (12 oz) package whole fresh cranberries
1 orange sliced with peel on and each slice cut in quarters
1/4 cup orange juice
Combine sugar, pecans, cranberries, orange slices, orange juice, and spices in a 2 quart casserole. Bake 30 minutes. Then stir yams into mixture, and bake another 15 minutes. Serve hot.
Easy but so yummy!
Enjoy!