A Memorial to Zig Ziglar in Quotes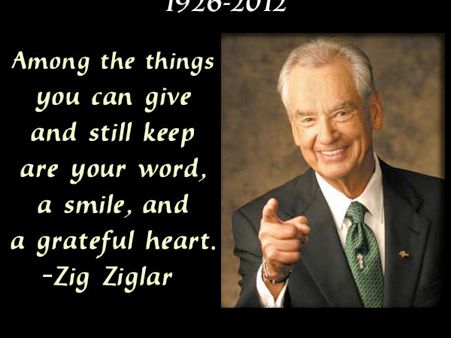 Decades ago, I read and listened a lot to this motivational speaker and author. As today is his memorial service, I felt it appropriate to share some of his quotes with you. Thank you to an inspiring man. (Photos here are used with permission from his twitter page…) Below are some quotes from this prolific and energetic man: 
What is your favorite Zig Ziglar quote?
"Remember that failure is an event, not a person."
"You will get all you want in life, if you help enough other people get what they want."
"People often say motivation doesn't last. Neither does bathing—that's why we recommend it daily."
"There has never been a statue erected to honor a critic."
"People don't buy for logical reasons. They buy for emotional reasons."
"Expect the best. Prepare for the worst. Capitalize on what comes."
"If you go looking for a friend, you're going to find they're scarce. If you go out to be a friend, you'll find them everywhere."
"A goal properly set is halfway reached."
"If you can dream it, you can achieve it."
"You may not be where you want to be, but that has NOTHING to do with your future."
"It is your attitude, not your aptitude, that determines your altitude."
"The chief cause of failure and unhappiness is trading what you want most for what you want right now."
"Money isn't the most important thing in life, but it's reasonably close to oxygen on the gotta have it scale."
"You cannot consistently perform in a manner that is inconsistent with the way you see yourself."
"The mind completes whatever picture we put in it."
"The real opportunity for success lies within the person and not in the job."
"Lack of direction, not lack of time, is the problem. We all have twenty-four hour days."
"Success is not a destination, it's a journey, it's the direction in which you are traveling."
"It was character that got us out of bed, commitment that moved us into action and discipline that enabled us to follow through."
"Rich people have small TVs and big libraries, and poor people have small libraries and big TVs."
"Be helpful. When you see a person without a smile, give them yours."
"You don't have to be great to start, but you have to start to be great."
"With integrity, you have nothing to fear because you have nothing to hide."
"If you treat your wife like a thoroughbred, you'll never end up with a nag. "
"Kids go where there is excitement. They stay where there is love."
"Success is the maximum utilization of the ability that you have."
"Positive thinking will let you do everything better than negative thinking will."
"You can have everything you want in life, if you just help enough people get what they want in life."
"People often say that motivation doesn't last.Well neither does bathing, thats why we recommend it daily."
"If you're sincere, praise is effective. If you're insincere, it's manipulative."
"If we do not start, it is certain we can not arrive."
"Life is a classroom — only those who are willing to be lifelong learners will move to the head of the class."
"Failure is a detour, not a dead-end street."
"There are no traffic jams on the extra mile."
"If you aim at nothing, you will hit it every time."
"Every sale has five basic obstacles: no need, no money, no hurry, no desire, no trust."
"You are the only one who can use your ability. It is an awesome responsibility."
"When we do more than we are paid to do, eventually we will be paid more for what we do."
"Do it, and then you will feel motivated to do it."
"You were born to win, but to be a winner, you must plan to win, prepare to win, and expect to win."
"Many marriages would be better if the husband and the wife clearly understood that they are on the same side."
"Its not what happens to you that determines how far you will go in life; it is how you handle what happens to you."
"You cannot make it as a wandering generality. You must become a meaningful specific."
Zig, our hat is off to you!