Movie Review: Sweet Land (A Love Story)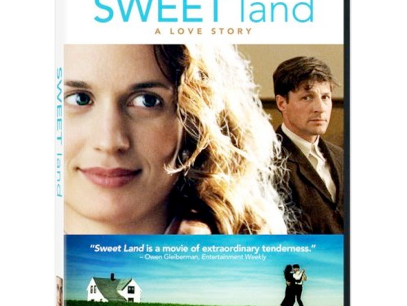 I really liked this film and give it four stars. It is sweet, picturesque, pure, and slow moving. It begins with a flashback that makes it take a while to get into the story, but the story itself is compelling, and at the end, you appreciate the flashback as well. And it is wonderful to see a love story that is PG, without sex, violence, special effects or foul language, let alone one done with such exceptionally beautiful cinematography.
This is a story about a German mail order bride coming to the Minnesota prairie to marry a Norwegian farmer just after WWI. The town ostracizes her because of their prejudice against Germans, and her rather complete language barrier makes it even more difficult. It is not just a love story wrought between a couple out of the hard ground, but a social commentary on culture, bigotry and the fundamentals of neighborliness. Love definitely effects these things as well.
The strenuous farm labor depicted made a big impression on me, making me wonder if we even know what work is any more. Lack of plumbing made me want to not take my luxuries so for granted. The movie left me more grateful for what I have and wanting to express more strength, patience, stamina and generosity in all I have to do. And I also found myself wishing that modern day farmers understood their wisdom of "farming and business don't mix," for if they did, the state of agriculture would be much better off today.
It is refreshing to watch two main characters whose actor's faces you do not know. Inge (Elizabeth Reaser) and Olaf (Tim Guinee) both do a great job and are so believable we are not done watching them when the film is over. The movie's panoramic landscapes (including some northern lights) are contrasted by probing close-ups of Inge's fascinating face. All of it is worth watching.
Take the time to see what it could possibly be like to have the gumption to travel into the unknown and marry a stranger, for ultimately that is the essence of life and marriage for any of us.