Book Review: Hotel on the Corner of Bitter and Sweet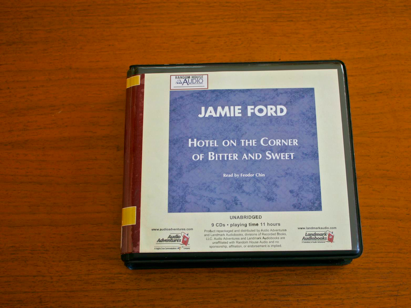 I'm so glad blog reader Clare recommended this book to me multiple times! Thank you! I really enjoyed this touching novel and give it five stars.
It is a story told of Seattle's International district, bouncing between the 1940's and the 1980's, from the perspective of a Chinese boy both at the age of twelve and as a grown man of 56. It highlights the Japanese internment of local citizens during World War II from the experience of someone bordering that community. The book does a wonderful job with the history of this period, as well as depicting the challenges of the immigrant Asian-American culture of the time. But more importantly, this evocative tale explores the complexities of conflicting loyalties and endless devotion.
This book will especially be poignant to anyone who remembers their first love, to those interested in the internment camps, for anyone who has attempted to bridge two cultures, or those who were painfully more progressive than their parents. It got me squarely on all those levels, and made me feel more forgiving of myself and others, while still desirous of setting things right.
This honest, integrity filled, G-rated love story (coming of age story) would be appropriate for teen audiences as well as those with a more expansive panorama in their rear-view mirror. The relationships in this novel not only ring real, they are fashioned so uniquely as to be unforgettable. And it's got jazz too!