Recipe: Pumpkin Cranberry Muffins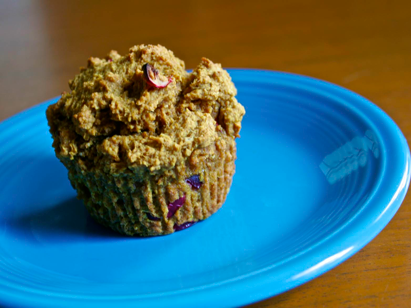 Want a dense, flavorful muffin with enough staying power to get you through the morning? Try these from Jillian Michaels…
Pumpkin Cranberry Muffin Recipe

Preheat oven to 425˚F.
Butter, spray or muffin papers to line the muffin tin
1 (15 oz) can of pumpkin puree
1/2 cup maple syrup
1/2 cup olive oil
1/2 cup coconut milk
1 teaspoon vanilla extract
2 3/4 cup whole wheat pastry flour
1 tablespoon (aluminum free) baking powder
1 teaspoon baking soda
1 teaspoon ground cinnamon
1/2 teaspoon ground ginger
1/4 teaspoon ground cloves
1/8 teaspoon grated nutmeg
1/2 teaspoon salt
1/2 cup fresh or frozen cranberries, chopped
About 2 tablespoons of raw pepitas (optional)
Prepare 12 cup muffin tin with light coating of oil or butter or paper liners.
In a large bowl, whisk together pumpkin, maple syrup, olive oil, coconut milk, and vanilla until well combined.
In a separate bowl, sift together the flour, baking powder, baking soda, cinnamon, ginger, cloves, nutmeg, and salt.
Add the dry ingredients to the pumpkin mixture and stir until just combined. Fold in the chopped cranberries.
Spoon the mixture into the prepared muffin pan. If desired, sprinkle a few pepitas on top of each muffin.
Place the tin in the center of the oven and reduce temperature to 375˚F. Bake 30-35 minutes until toothpick inserted into the center of the muffin comes out clean.
Serve warm. (Can be frozen for later as well, and good at room temperature for up to three days.)
Enjoy!