Clean Tuna Casserole (Recipe)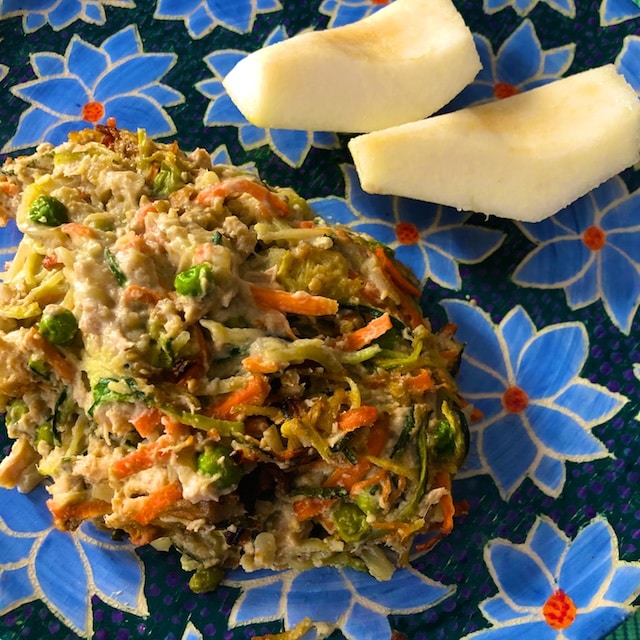 In need of comfort food? This is the ticket! This is delicious comfort food that likes you back!
I have been chasing after a cleaned up version of a tuna casserole, getting closer each time with this, and then this, but now I have finally done it. This mild, satisfying staple is perfect for a snowy winter night. Leftovers are just as good.
And for those of you that shy away from spice… even though there is some cayenne in here, it is really very bland; it is just yummy and not spicy, I promise!
Clean Tuna Casserole Recipe
3 cans albacore tuna (I use Safe Catch)
2 cups frozen hash browns
2 medium zucchinis
1 cup frozen peas
1 cup carrots, grated large or julienned
1/4 cup almond milk
1 cup vegetable broth
1 cup raw cashews
1 cup fresh mushrooms
4 cloves garlic
1 teaspoon onion powder
1/4 teaspoon salt
1/4 teaspoon black pepper
1/4 teaspoon cayenne pepper
Preheat oven to 375°F and grease a medium sized baking dish with ghee.
Using a spiralizer or vegetable peeler, spriralize zucchini and add to colander. Sprinkle with salt and allow to sit for 5-10 minutes, to let it weep excess water. Squeeze it dry. Cut the zucchini into shorter lengths so you do not have annoying zucchini ribbons that are too long.
In a large mixing bowl, add tuna, hash browns, frozen peas, carrots, and spiralized zucchini.
Using a high speed blender, blend together almond milk, vegetable broth, raw cashews, garlic, onion powder, cayenne, mushrooms, salt and pepper. Whirl to combine.
Pour sauce over ingredients in the large mixing bowl and gently fold until evenly coated. Transfer to greased baking dish and bake for 45 minutes until the sauce is bubbling. Broil on high for 2-3 minutes if you'd like to brown it a bit.
Garnish with finishing salt and maybe some parsley.
Serve immediately.
Yum!