Laying Down the Stone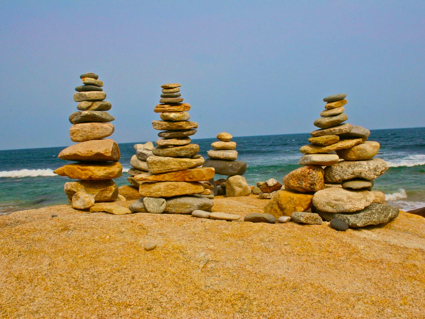 I just want to say that any of you that still have got me on a pedestal, you better just go ahead and get me off of it. I can't take one more person saying, "I don't know how you do it all." Truth is, I don't. I've got scads of unprocessed piles and legions of half finished projects. I get tired and uninspired, disillusioned and fed up.
Yes, on many good days, this blog is my rich overflow, a total delight. But then sometimes it is just my pathetic last ditch effort to convince myself that I amounted to anything that day.
I don't get credit for anything that goes right. Good is infinite and comes, by definition, from God. My jurisdiction seems to be getting in the way of that at times. Even if you believe yourself spiritual, you are still stuck doing the human thing and the waters therefore get suddenly murky.
Spiritually, I suppose, I never doubt. But humanly, I do, all too much. Spiritually, I suppose, my work is done and my purpose is fulfilled. But humanly, it is no where remotely close. And if spiritually I'm perfect, humanly, I am an extremely rough work in progress.
At least I can be glad I'm not "the woman taken in adultery, in the very act," that Jesus was defending when he demurely told the onlookers that he who had no sin could cast the first stone at her. At least I'm quick to lay down that stone and walk away, convicted by my own human imperfectability.
That Bible story isn't just about the inappropriateness of self-righteousness. It is also about owning your own complicity with the human condition. Additionally, it is about Jesus not only defending the adulterous woman as uncondemned, but us as well, in all our failings and shortcomings.
I don't want to be loved as worthy because I measured up in some way, followed all the rules right, or passed some test. I don't want to be loved based on how well I demonstrate my spirituality. I want to be loved by other authentic humans that also know they can cast no stones. I want to be loved by the one who had the wisdom to pose the stone throwing question to begin with.
I can't take posing, pretending or posturing. Someday, I believe we will all win and wear the crown of the faithful. In the meantime, there is struggle. And I don't think that's such a bad thing. Babies work at cutting their teeth, and they are no less cherished or perfect for going through that.
We are alive! Can we fully accept who we are right now instead of always being in self-improvement mode? Can we love ourselves regardless of all the falling short of our high ideals we censure ourselves so harshly for? We can forgive everyone in the universe, but do we begin to forgive ourselves?
Jesus, the same one who had the audacity to keep saying, "Go and sin no more," knew every single one of us had reasons to put our stones down.
So yes, we try to not interrupt good, and we try to be obedient to a perfect ideal. Meanwhile, there is no shame in just accepting that you've not hit the mark of the high calling yet, and that you need to again – for the millionth time – put that darn stone down and stop using it to beat yourself up with. Don't blame yourself! Quit the self condemnation already. Stop indulging in the would've, could've, should'ves.
There is no human perfection and there never will be.