Zucchini Noodle Tuna Casserole (Recipe)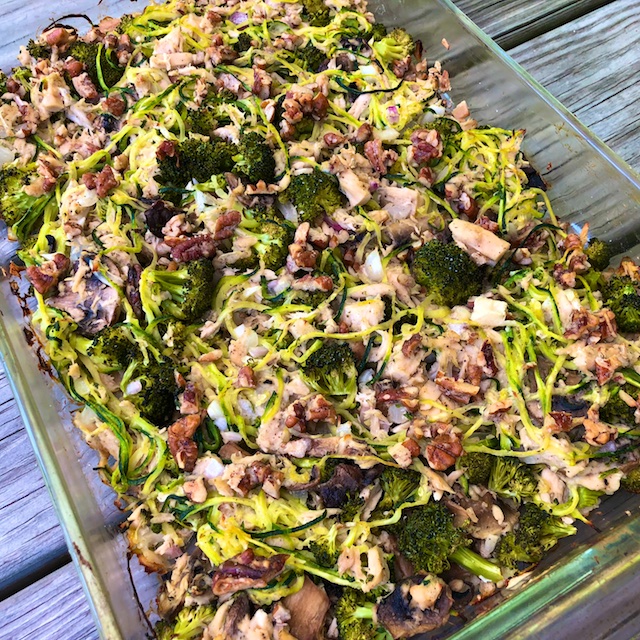 This recipe is next in a series of me trying to update tuna fish in my life. Our family loved these tuna casseroles (here and here) but being on the Whole30, I wanted a version without cheese or pasta. This recipe is my delicious solution: the zucchini noodles and veggies replace the pasta, and the cashew cream makes you not miss the cheese at all.
Please note: You must start by soaking the cashews in filtered water (covered) in the fridge for over 12 hours. This will make two cups of cashew cream, enough to double the recipe, if you wish, or you can save the balance and use it in some other way, since it is great added into all sorts of other things. (It blends much better in a two cup amount, which is why I don't recommend only making one cup's worth.) In the photos you can see I used two "pucks" of leftover cashew cream from making this, that we froze in muffin tins. That works really well.
Zucchini Noodle Tuna Casserole Recipe
2 cups raw cashews (will make 2 cups of cashew cream; need only 2/3 cup for this casserole)
3 small zucchinis, spiralized (or three cups store-bought spiralized ones)
2 cans albacore tuna in water, drained and flaked
1 small onion, diced
2 garlic cloves, minced
5 large cremini mushrooms, sliced
1 teaspoon mustard
1 teaspoon salt
1 (scant) teaspoon black pepper
1/2 teaspoon dried rosemary, minced
1 Tablespoon lemon juice
2 Tablespoons mayo, divided (I use homemade avocado mayo)
1 bunch broccoli, florets only
1/2 cup pecans, chopped
Soak the cashews in filtered water, covered, in the refrigerator for over 12 hours. Then rinse and drain the cashews. Place in Vitamix or strong blender and cover (1″ above) with fresh filtered water. Blend until smooth, 2 or 3 minutes.
Preheat oven to 325ºF.
Lay zucchini noodles on a clean dish towel. Sprinkle them with salt and let them rest there to release their liquid while you prep everything else.
Put onion, garlic, mushrooms, broccoli, and tuna in a casserole dish.
Add in the salt, pepper, 1 tablespoon mayo, mustard, lemon juice and rosemary. Mix in well.
Wrap the kitchen towel around the zucchini and squeeze all the water out. Add the zucchini to the casserole dish and toss to combine.
Pour in the cashew cream and toss to combine.
Toss chopped pecans with remaining tablespoon of mayo, and sprinkle over the top of the casserole.
Bake for 30 minutes.
(Use a knife to cut noodles to serve…)
Enjoy!