Thumbnails, Notans, and Field Sketches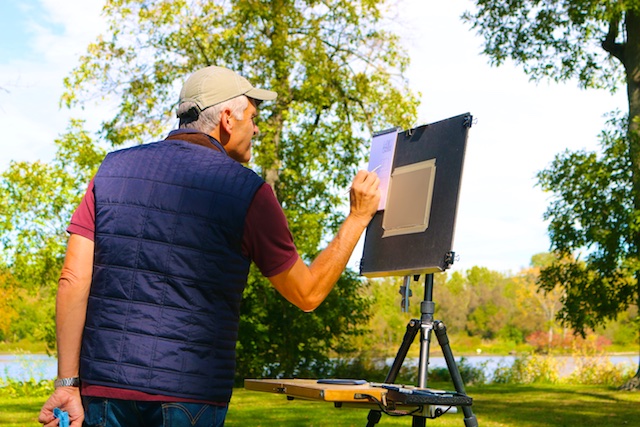 In the class I've been taking with Richard McKinley, he discussed in detail a process he uses to formulate a field sketch using thumbnail sketches.
The first thumbnail sketch he does is the basic outline of the shapes in the scene. In the second thumbnail, he reproduces that sketch but fills it in with four values: white, black, and two middle tones. In the third thumbnail, he creates a "notan," or a black and white sketch, resolving the two lightest values to white and the two darkest values to black. This black and white notan will clarify right way whether or not your composition is interesting, based on seeing if the abstract pattern resulting from this exercise is interesting or not. It you like it, then go ahead and copy your first sketch directly onto your paper, and start to fill in the correct values in pastel.
You can see several examples of this below that he showed us to explain the process, and then you can see photos from his live demonstration of these principles. Down toward the bottom, it was our turn to try it; you can see me doing this in the last couple photos.
I found this instructive and will use this method some in the future.